A man came up to me and asked "You can't be debt free in 5 years or less if you own a home".  I said "Really, do you mind if I use you as an example?"
"This will be interesting" He responded.
"Can you save 10% of your gross income?" I asked.
His response was "If it means I will be debt free in 5 years absolutely."
The following table shows the man and his wife's financial income and expenses position

The man agreed to save 10% of their gross income per month = $750 and he finds this in saving on their current expenses etc…
 Summary of Debts Held by the Client

The following is the sequence we recommended the client pay down their individual loans so to achieve the goal of being debt free in less than 5 years.
As with many things in life the simple the strategy, the easier it is to implement and the more profound its impact.
So while people get concerned and confused about the best way to pay down debts, the following is what I believe to be one of the simplest and best formula to make it a reality for you.
Starting with the debt with the least owing, pay this off and then with the interest you are now saving (by paying off the debt) add this towards paying off your next debt etc… lather, rinse, repeat until all your debts are paid off.
Debt Reduction Recommendation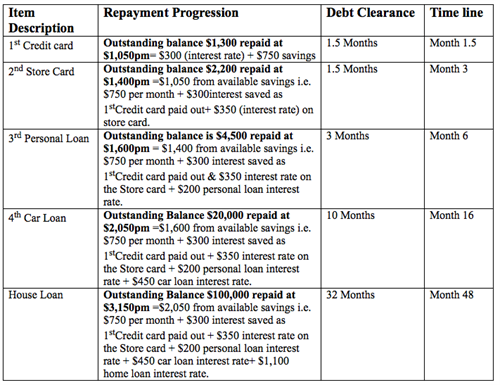 Some people may argue one can also achieve the same outcome by consolidating all your loans into one big loan at a lower interest rate. While this may be so in theory, the real issue is that people become more laissez-faire, thinking they can now slack off in their repayments or go out and spend more. 
The human tendency is to again go out and spend on the card or on an unforeseen expense or emergency (if they don't have an emergency expense savings account).Due to the minimum debt repayment set by the financial institution (compared to what the individual is paying as a whole now) and simply because its available, yes you guess it… it goes on to the credit card again and ultimately the borrower ends up in more debt.
By implementing the debt reduction method of one debt at a time; one's confidence builds through reinforcement as the evidence of progress reveals itself, (releasing debt burden) one debt at a time.
Paying off debt and never owing it again is a truly liberating experience.  I encourage you to embrace this approach if you are lost and confused when it comes to how to best pay out your debts.
For more information about how to personalize and tailor your own getting out of debt ASAP contact peter@fmw.com.au to arrange a complimentary meeting.
Article by:
Peter Horsfield
Was this helpful content?
Let others know - share and vote-up