Financial planners use their expertise to advise the rest of us on how to make better decisions around spending and saving our money - so what can science achieve differently? Specifically the new area of "decision science" which is looking at still-unanswered questions such as: "Just why do some people accumulate wealth, but others fail?"
There were certainly some planners in the house at a recent masterclass in Sydney with the impressive Professor Shachar Kariv from the University of California, Berkerley.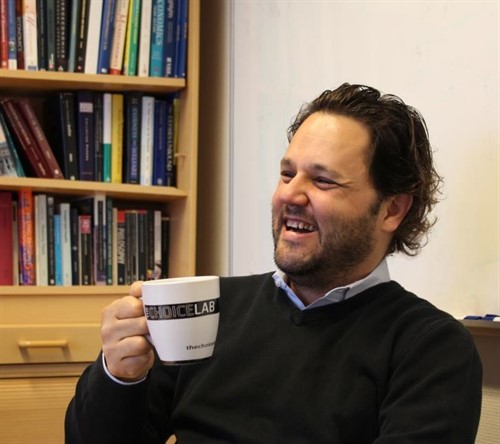 Image: Professor Shachar Kariv of the Faculty of Economics, University of California, Berkeley
It was held at the new "fin tech" start-up hub called "Stone and Chalk", where Adviser Ratings is soon to take up residence, over a very profitable breakfast. The profit in this case was the shared wisdom around new thoughts, about the way we decide to save and invest money (especially for our retirement).
Kariv's talk was called 'Your Decisions Reveal Who You Are' and amongst many topics, looked at our "so-called" consumer preferences. When we fill in forms or answer questions around our feelings, say around risk and return and investments, these are stated preferences. We say what we hopefully think.
But by using ingenious tests, which can be done online easily and cheaply, and involve games which weigh up the trade-offs implicit in risk and reward it's possible to reveal a person's preferences. And arguably such revealed preferences can be far more reliable guides to our true feelings than what we might say.
In terms of money, the professor talked about three domains which effect decisions around our financial futures:
First and most obvious is risk and the inherent conflict between taking more risk to get better rewards or vice-versa;

Then there is time, and the trade off between enjoying our money today or delaying the gratification until tomorrow;
The third is social, and is about "the self and others", for example will I spend my money on myself or leave it to deserving others?
He then turned to the difference between aversion to risk, and loss, and how they differ - and even discussed the aversion to ambiguity. It was beguiling and fascinating and suggests much about how such science can help in evaluating what we say we want and then how we actually behave. 
To quote the professor from the story below: 
"We are not mathematicians, we're not doing this for the sake of the theory—we are using mathematics and data analytics to help improve financial decision making in the real world. It takes a universal language to solve a universal problem such as retirement and mathematics is that language.  If you give me a better language, I will gladly adopt it."
For more on Professor Kariv see this interview. UNSW's behavioural finance department also has this to say about what banks and financial institutions know about your financial decision making.
By Christopher Zinn, Communications & Campaigns Director, Adviser Ratings
Article by:
Christopher Zinn
Was this helpful content?
Let others know - share and vote-up