As calendar year 2021 comes to an end, the financial advice industry is on the cusp of another grim milestone. By early 2022, we expect more than 10,000 advisers will have left in three years.
The departures leave the ratio of advisers to Australians at nearly 1 to 1300. Three years ago, it was 1 to 900.
While we're not suggesting the whole population needs advice – especially in younger age groups – the sharp change will have ramifications for people who are seeking an adviser's guidance in the next decade.
Increasingly, advisers are reporting having to turn clients and prospective clients away, even with numbers still well above our forecast nadir of 13,500. With fewer advisers to serve a booming population, it's inevitable that more Australians will have unmet advice needs before and during their retirement years.
Figure 1 – Australian residents per financial adviser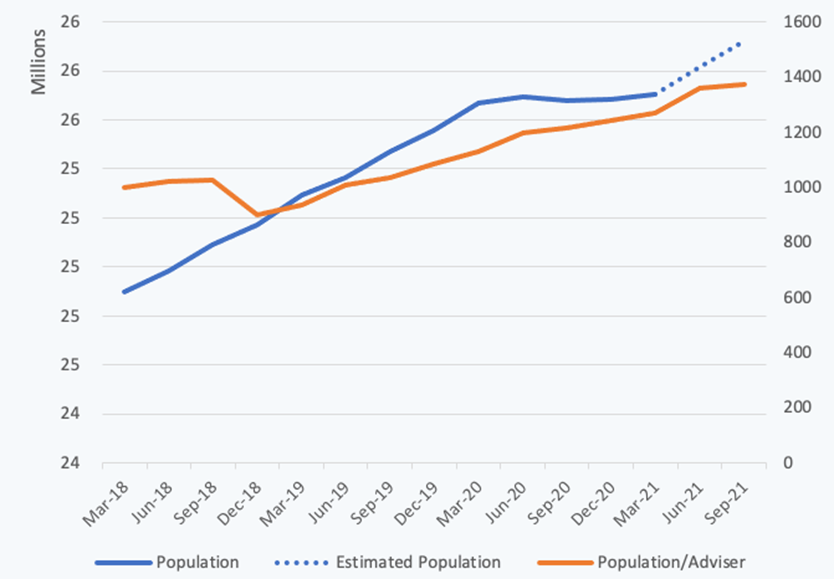 Source: AR Data. Note: Population predictions are based on ABS and UN data but COVID-19 may affect them.
Global comparison
Given this reality, we thought it was worth taking a look at some of our global friends to see how their advice markets are tracking comparatively. For the analysis, we selected New Zealand, the United States and the United Kingdom.
Unsurprisingly, New Zealand has more advisers per person than Australia or some of its bigger global counterparts. Currently, our figures show there is one adviser for just shy of every 500 New Zealanders. In other words, there are more than 10,000 advisers for a population of around 5 million people.
At the other end of the spectrum, the United Kingdom has just 28,000 advisers to serve more than 68 million people. In similar fashion to the Australian experience, the UK's Retail Distribution Review led to a mass exodus of advisers when professional standards and pricing structure reforms were introduced. Now, there's one adviser per almost 2500 people.
Figure 2 – How our allies compare: Population per adviser in global markets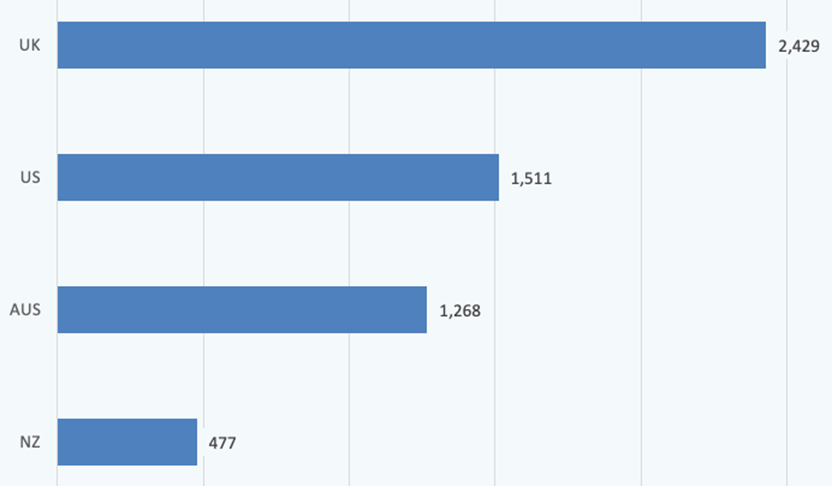 Source: AR Data. Note: Population predictions are based on ABS and UN data but COVID-19 may affect them.
Both Australia and the United States lie somewhere between these extremes, with a single adviser per roughly 1300 and 1500 people, respectively. In Australia, this ratio is continually increasing, with the number of advisers dropping quarterly and the population growing.
In fact, our most recent forecast suggests the number of advisers in Australia will drop below the 16,500 mark by early next year. If this happens, the ratio of advisers to Australians will change to almost 1 to 1500, bringing it into line with the US. Grim times indeed.
For more on the latest adviser numbers, don't forget to check out the most recent Musical Chairs report.
Article by:
Adviser Ratings
Was this helpful content?
Let others know - share and vote-up