Join advisers across Australia who are tapping out their responses to our Financial Advice Landscape study for 2021. We're excited to share our report findings with all advisers who complete the survey and you'll receive your own regional report to see how your practice compares across Australia. You'll also go into this year's $40,000 prize draw: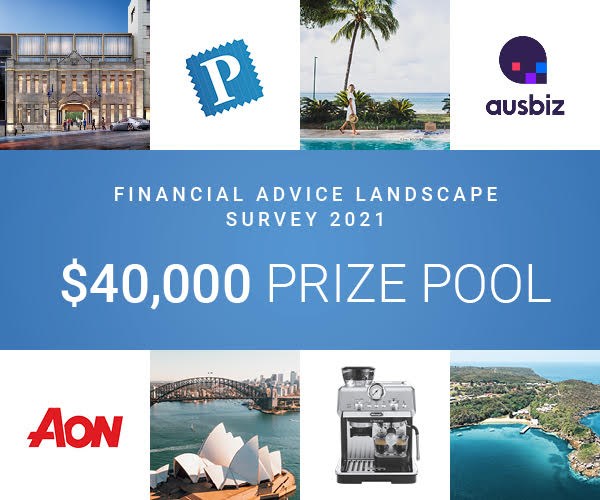 Prize one:
A bespoke Media Marketing Boost Pack from Pinstripe Media and ausbiz. We'll fly the winner (and a partner or friend) to Sydney for a weekend stay, with the Friday to dedicated to a workshop with Pinstripe Media's marketing and content strategy team, who will come up with a tailored 6-week action plan, which can include video production, media training, media coverage and interviews on key B2B or consumer finance outlets. Plus a feature interview in the television studio with one of the ausbiz anchors. You'll be free to use this across your website and social channels. (Valued at $30,000)
Prize two:
From AON, proudly sponsoring our Financial Advice Landscape Report again this year. (Valued at $5,000)

Prize three:
Spend two nights in a Heritage King Room, including breakfast for two at the Tasman Luxury Collection Hotel Hobart (opening in 2022) and enjoy a dinner at Peppina restaurant. (Valued at $2,500)
Prize four:
Enjoy 3 nights at Seahaven Noosa Resort in a beachfront luxury apartment on Noosa's main beach with direct street access to famous Hastings Street. (Valued at $2,500)
Prize five:
Relax for 2 nights, including breakfast at Q station at Manly's North Head, right in the heart of Sydney​. (Valued at $1,500)
Prize six:
A DeLonghi La Specialista Arte Coffee Machine which features a complete set of Barista accessories and technology to make the perfect cup of coffee at home or your practice. (Valued at $800)
Article by:
Adviser Ratings
Was this helpful content?
Let others know - share and vote-up