It's the year of the Monkey for nearly a quarter of the world's population! The Chinese New Year festivities have just got under way so Adviser Ratings decided to speak to a couple of advisers with Chinese heritage to see if they had any special insights on the Chinese community and what they want from their financial advisers.
A view echoed by the advisers we spoke to was a reluctance of recent migrants to engage in financial advice. Kitmen Zhuang of Focus Private Wealth in Cheltenham East in Melbourne said that second and third generation migrants are much more likely to get advice. "(This group) understand our system better, they've grown up here so they understand tax and regulation better. They tend to be more professional and understand the value of advice" According to Kitmen, first generation migrants are more traditional and are more likely to rely on their family for their future financial security. Kitmen said he didn't "target" the Chinese-Australian community in particular and that maybe 10%-20% of his client list was of Chinese descent, and that generally these clients were after the same thing as his other clients.
Perhaps not surprisingly (if you believe the attention given to the subject in the media) both Kristina Lin of PKC Group Wealth & Insurance Solutions in Essendon in Melbourne and Kathy Zhou from Aon Hewitt Financial Advice said their clients with Chinese backgrounds were more interested in property than other investments. Kristina mentioned the special government visas, available to high wealth individuals from China who have been encouraged to invest in property if they want to gain residency. The increase in Chinese migrants seeking property (and residency) in Australia may have peaked however; the conditions of these visa's have recently changed and the SMH has reported a dramatic drop off in visa applications under this program. Another article points to a key factor resulting in reduced Chinese demand for Australian real estate as being the current state of the Chinese economy which has led to a less confident and wealthy Chinese consumer. Still, the last couple of years have seen Chinese investors leading the pack as far as overseas investment in Australian real estate in concerned as the chart below attests.
Value of Commercial and Residential real estate approvals according to the Foreign Investment Review Board (FIRB) for the most recently available data.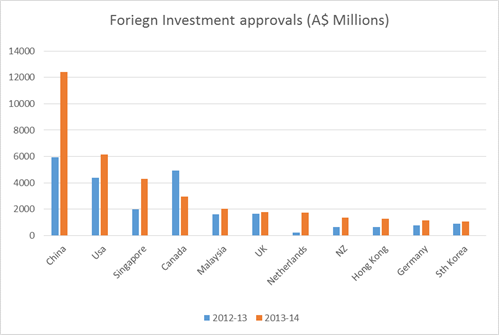 In her experience, Kristina said Canada and Australia were both attractive destinations for migrating Chinese and that the recently high Australian dollar made Canada a more attractive proposition for both migrants and Chinese students seeking education abroad. 
Adviser Ratings wanted to move on to another big question and sought comment on the role of the newly signed Free Trade Agreement (FTA) between Australia and China that came into effect on December 20th last year. All the advisers we spoke to said it was too early to see if this would have any effect on their businesses. So instead, we asked about the role that particular "numbers" and "luck" played (if any) in informing their clients decision making. While all agreed it was a "thing" in Chinese culture, Kitmen didn't think it played too much of a part. Kathy said numbers didn't worry her personally and that she lived at an address with a couple of fours in it (which are associated with death!!) Kristina on the other hand said that she thought her clients were willing to pay a little more for a property if it had lucky numbers associated with it. She referenced a property sold on the 8th of August last year at an address with several "8's" in it (eight being a number traditionally associated with wealth and fortune) that sold for well above its reserve. Adviser Ratings thinks that whether lucky number were at play or not – that wouldn't be the first time in recent history that a property in Australia has gone for well above its listed price at auction!
Happy Lunar New Year!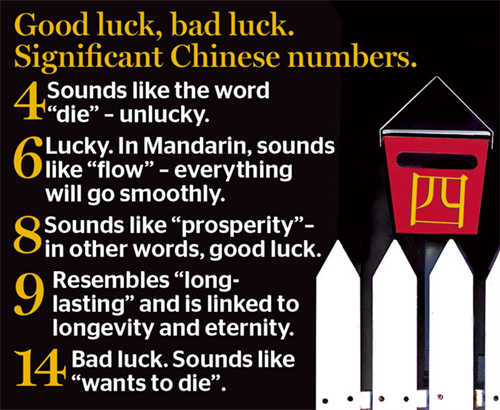 Source: Domain, July 18 2015
Article by:
Rodney Lester
Was this helpful content?
Let others know - share and vote-up