Adviser Ratings 2018 Australian Financial Advice Landscape report has drawn out some interesting facts regarding the financial advice landscape across the country. One of these facts is the vastly different engagement levels in different geographical regions around Australia. Here we compare a couple of regions at either end of this spectrum and take a look at some of the factors that might explain the discrepancy. Is it an availability issue, like having access to an adviser, or are the differences explained by demographic or socio-economic data?
The 2018 Australian Financial Advice Landscape Report incorporates Adviser Ratings' proprietary data, census data, and results from over 1,100 advisers who were surveyed for the report. The report partitions Australia up into 59 different geographical areas which allow comparison in combination with other ABS data. Here we compare two regions at either end of the engaged spectrum. In other words, regions that have the most and least number of people engaged with advisers per head of population.
First let's start with the baseline. In Australia on average, 10.3 % of the total population engages with a financial adviser. When removing children from the data the figure rises to 13.7%.
When looking at reason for being engaged in advice, obviously demographic data like age is a factor, nearly 50% of people who receive advice in Australia are over 55 years of age. So too is the fact that in general, people with higher incomes are more likely to engage in getting advice. The other factor we can introduce is the accessibility of advisers who can service a particular region. Notwithstanding the fact that many advisers can offer advice "remotely" using technology such as call and video conferencing to service their clients, the vast majority of people meet with their advisers face to face in the advice process, so location is a key element of a potential advice relationship.
With these factors in mind, let's turn to the numbers. Our data indicates that on average there is 991 people for every adviser in Australia, and that the average number of clients and adviser has is 102.
The region serviced with one of the least number of advisers per head of population is the "Capital Region", which is directly North East and South East of the ACT. This area has 3159 people per adviser with only 2.5% of the population engaging in financial advice. The average age of 224,288 people in this region is 44 with 34% of the population aged over 55.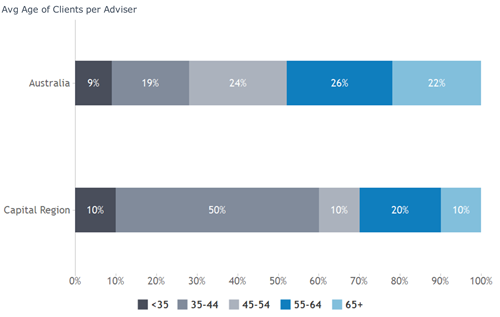 Fig 1. Ave Age of Clients Per Adviser (Capital Region)
At the other end of the spectrum we can find "Baulkham Hills and Hawksbury" in the North West region of greater Sydney in NSW. Here there are 716 people per adviser with 21.3% of people engaged in Financial advice. The area has a population of 235,083 and average age of 39, with 26% of people being over 55.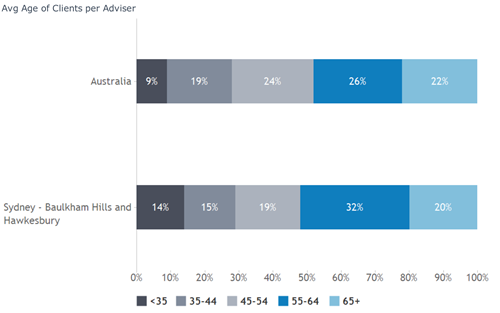 Fig 2. Ave Age of Clients Per Adviser (Baulkham Hills)
A few things stand out from these initial figures. The higher average age of the population in the Capital Region does not correlate to a higher proportion receiving advice. In fact, in the Capital Region, only 30% of those who receive advice are over 55. In contrast, 52% of people who receive advice in Baulkham Hills and Hawkesbury are over 55.
The other interesting figure comparisons to these two regions throws up is the average number of clients per adviser. On average, advisers in the Capital Region have 79 clients, whereas Baulkham Hills advisers service 153 clients.
Perhaps the key indicator of differentiation these two regions in the Median Weekly Household Income. For these two regions there is a big difference. The Australian average of this figure is $1,438. In the Capital Region this figure is $1,228 and in Baulkham Hills it's $2,270 which significantly higher than the Australian average.

Fig 3. Comparison of Two Regions With Australian Average.
Further questions that stem from these particular comparisons are those relating to the level of service being given to those clients by the advisers involved. Of course it would depend on the type of advice being offered, but no doubt there are those who would question the ability of advisers to effectively service 153 clients as advisers do in Baulkham Hills, particularly when compared to the Capital Region's advisers who service only 79 on average.
In the coming weeks we will engage in some further analysis of the data available to us to ask some more pertinent questions and reveal insights, and hopefully start some meaningful conversations into the advice landscape in Australia.
Was this helpful content?
Let others know - share and vote-up