Up until the Royal Commission, the focus for financial planning software was on reducing time and increasing output. Now, the focus is on trying to increase compliance. With over 50% of advice being non-compliant, there is a huge amount of pressure on large dealer groups to ensure this is handled better moving forward. Software is seen as the only manageable way to ensure this happens, thus compliance in tech is the focus right now over efficiencies.  
The price of financial planning software is still one of the major costs for financial advisers. With the recent trend for licensees to unbundle services offered to advisers and price them on a user-pays model, we are also seeing the beginnings of segmentation of financial planning software into its component parts (CRM, SOA generation, modelling etc) and tender services at this level. This is creating opportunity for established and emerging specialists in each of these niche areas, for example NOD for SOA generation and Salesforce for CRM.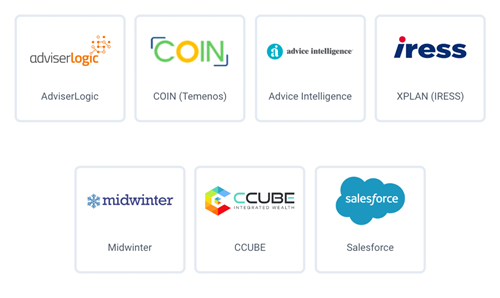 New software entrants to market include Advice Intelligence and CCUBE who have been well funded and taken their time to come to market. Salesforce is the big whale to recently join with their financial services hub. IRESS still holds the overwhelming majority in the market, and some players like Midwinter have gone after the industry super funds to circumvent competition in the retail market.
Behind compliance as the primary driver, improved customer (not adviser!) experience is another driver of product development for the software players. This is being fuelled by the emergence of goals-based advice engagement models, the increased prevalence of online client meetings, and the demand from customers for high quality online portals where they can monitor and manage their personal financial matters 24/7.
The changes in what the market is demanding mean it is vitally important that the providers understand that software is no longer just being used for data capture in the background. Their products are increasingly being used as part of the conversation and interaction between financial advisers and their clients.
A key focus should be how to create software that answers human and emotional problems. The type of people who are building the advice software – generally highly rational technical engineers may not always have the interaction between adviser and client at the heart of their development. Making sure the software getting built is actually designed for a conversation between an adviser and a client is focus number one.
Advisers will shortly be able to have their say regarding their financial planning software providers, as well as other software services including business management software solutions like Practifi and emerging regulatory technology solutions like TIQK that automatically monitor compliance of SOAs. The launch of our much-anticipated Adviser Marketplace in the next couple of months will help take the guesswork out of choosing advice products and services for your business and provide you with much needed market intelligence to help you navigate these disruptive times.
Article by:
Adviser Ratings
Was this helpful content?
Let others know - share and vote-up