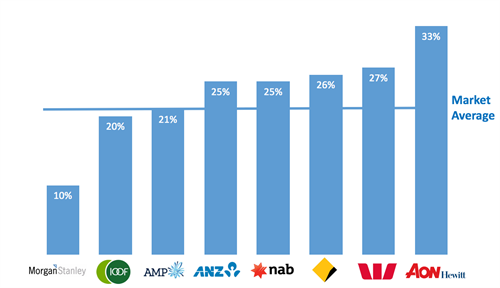 In light of the recent coverage of gender imbalance in our boardrooms and comments by former Prime Minister John Howard saying it was unrealistic that there would ever (...ever?) be a 50/50 gender split in our political representatives, we decided to take a look at the gender balance in financial advice of various licensee's.
It's a well known fact that the Financial Advice industry is dominated by men with nearly 80% of all advice practitioners being male.
Adviser Ratings would like to see a greater representation of women in financial advice, and we don't believe that wish is unattainable.
A recent report in Fairfax Media noted that female representation in boardrooms in ASX200 companies has risen from just 8.3% in 2009 to 23.8% in August this year. If current appointments continue in the same vein (women have made up 40% of appointments in the last 6 months), gender equalityin the boardroom is set for 2022.
This information came from the Australian Institute of Company Directors (AICD) recent diversity report, We have to mention that when the AICD (who have set a target for 30% female representation by 2018) wrote to companies with none or only one female board member, response included "We don't have to and we don't want to", "women aren't reliable enough", and "women talk too much and make the board meeting too long."
Wow.
Licensee administrators can check out their own Licensee's gender balance by logging into their licensee account and having a look at the "Stats and Reports" tab.
Article by:
Adviser Ratings Research
Was this helpful content?
Let others know - share and vote-up