For many advisers, Christmas came early in December when the government announced the disbanding of FASEA, supporting a promising new narrative from Canberra about reducing red tape and lowering the cost of advice. Standards setting, including responsibility for re-evaluating the contentious Standard 3 in the Code of Ethics, will fall to Treasury, while ASIC's Financial Services and Credit Panel will become the single disciplinary body overseeing operational matters like examinations and enforcement. 
The reality is that the industry has to wait for Parliament to endorse this proposed legislation "in the first half of the year" before anything changes. We are feeling a sense of déjà vu here, remembering how this time last year we were kicking around the imminent prospect of legislation to extend the FASEA deadline for exams to January 2022 and the completion of educational qualifications to January 2026. That took another eight months, ultimately passed in August. To be fair, it was a favourable outcome, invariably delayed by a pandemic.
So what do advisers think the post-FASEA world will look like? Are they anticipating a relaxation of the standards or an extended timetable for implementation? Will they be more proactive in completing current requirements, or retreat into their shells and hope for some more legislative largesse? In its caretaker role, will FASEA sit on its hands with feedback from recent industry consultation on the Code, or suspend early initiatives to increase information disclosure and data sharing?
As part of our ongoing Financial Advice Landscape study, we asked advisers when they expected to achieve the January 2026 gold standard of an equivalent tertiary educational standard. The results in Figure 1 were quite startling, with almost two-thirds (63%) of over 1,000 surveyed advisers already meeting the FASEA standard or expecting to be there by the end of next year. This is three years in advance of the official January 2026 deadline and a very encouraging signal for government, regulators, and the industry.
Figure 1: Adviser Expectations For Completing FASEA's 2026 Education Requirements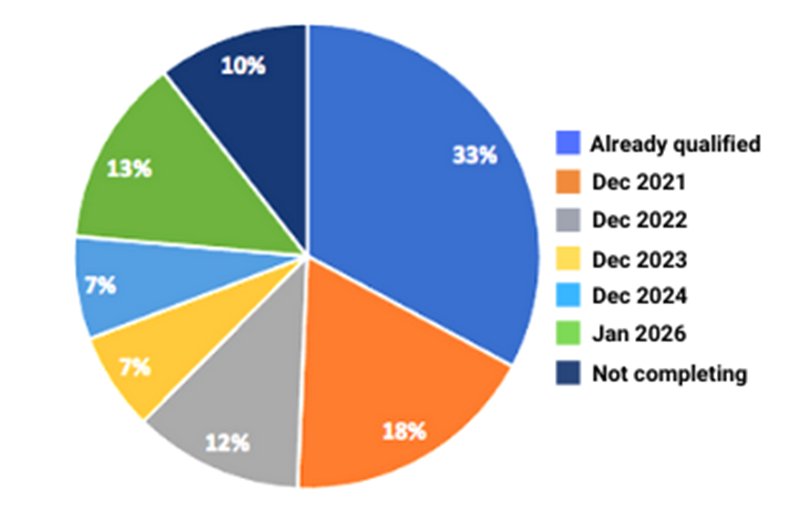 Source: Adviser Ratings Financial Advice Landscape study 2020 (n=1,100)
Drilling deeper, we can reveal that three quarters (74%) of the same adviser cohort had either completed the FASEA exam or were currently waiting for their results, compared with 52% across the entire community. Clearly, these survey participants are a motivated bunch with a positive outlook on the future of the advice industry.
Interestingly, another 10% of surveyed advisers do not intend to complete the educational requirements, suggesting that they will exit the industry or switch to non-advisory roles at some point. Depending on when they intend to make those moves, it's unlikely that they will also complete the exam over the next 12 months, or be necessarily motivated to do their best should they be compelled (by commercial circumstance, or pressure from their licensee or clients) to follow through. By extrapolation, this equates to over 2,000 advisers. Given all that, it won't surprise if the downward trend in the exam pass rate from Figure 2 continues.
Figure 2: FASEA Examination Adviser Pass Rates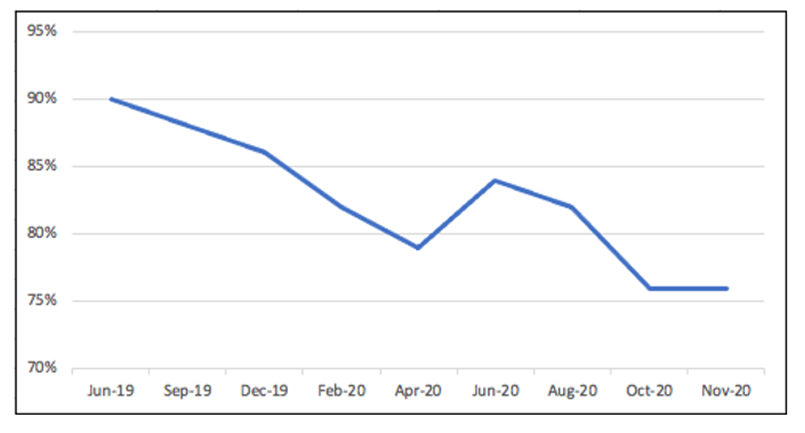 Source: FASEA
Is completing the exam a badge of honour? Do advisers think this will make a difference in how they are perceived by clients and prospects? On December 18 2020, FASEA launched a new exam register that contains all the names of advisers that have completed the exam. Interestingly, only 70% of the 10,000 qualifying advisers agreed to allow their names to be displayed.
Professionalising the advice industry still has a long way to go, and it was never going to be easy. If you have some strong views on important issues like this, please have your say at www.adviserratings.com.au/yoursay and be in the running to win from the $30,000 prize pool drawn on January 29th.
Article by:
Adviser Ratings
Was this helpful content?
Let others know - share and vote-up