Of all the recommendations to come out of the Royal Commission's final report, the one with the most immediate material concern for advisers are the recommendations around changing the ways they are remunerated. Going to the heart of the "poor advice" issue, Hayne has pointed to adviser so-called conflicted remuneration – in particular grandfathered commissions and insurance commissions, recommending they both (eventually) be reduced to zero. This would, in the commissioner's eyes, help ensure advice clients get the best advice for their individual situation and help thwart the temptation for advisers to use products that give them the most commission.
Needless to say, if these two proposals were enacted, they would significantly effect a large proportion of adviser revenue streams and force a re-think in the fee structure of many firm's businesses. we have calculated the removal of grandfathered commission alone would wipe over a billion dollars of profit from advisers collectively, per year.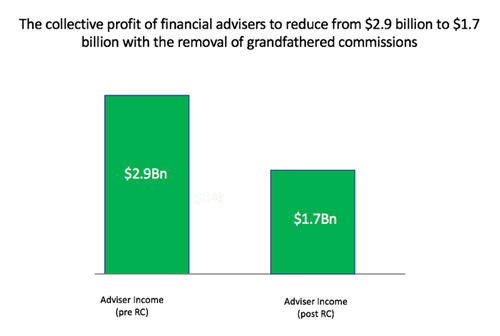 We have used data sourced from the Adviser Ratings Landscape Report Survey and other proprietary sources to compile the following graphic illustrations of potential scenarios. While all advisers positions are different and somewhat unique, our data indicates that average Adviser Income would fall by 42% following the removal of grandfathered commissions, whilst removing grandfathered commissions AND life insurance trail commissions would see adviser income fall by 58%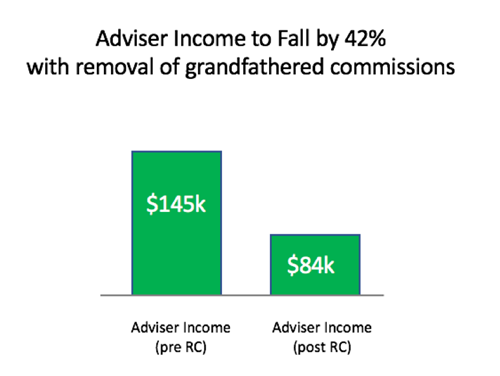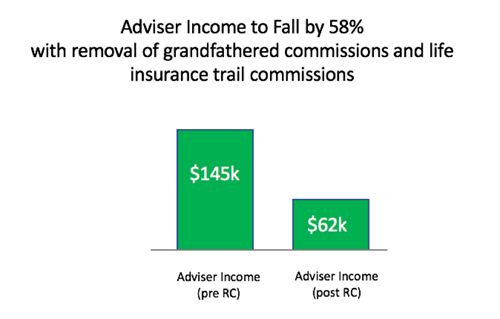 The recommendations stand to significantly disrupt both the profitability and sustainability of many advice practices that have heavily relied on trail commissions, and should put further pressure on already falling business valuations and practice owner exits from the industry. Unsurprisingly, this is also likely to accelerate the implementation of fee-for-service business models as well as put pressure on the retention of asset-based pricing models dressed up as fee-for-service. The cost of advice for consumers could climb by over 70% as advisers, move further towards fee for service models to replace lost income.

The government is likely to approve a staged removal over 12-24 months, attempting to limit the damage to industry by allowing advice businesses to make an orderly transition to new fee arrangements. Nevertheless, impacts will invariably include poorly managed business transitions (from vendor to acquirer), further adviser turnover, and potentially high levels of stranded or orphaned advised clients and associated wealth.
These changes will also affect distribution dynamics between financial product manufacturers and licensee groups, as relationships built on conflicted remuneration either extraneously paid by manufacturers, or embedded in financial product fees are dismantled. Removal of conflicted payments embedded within legacy products may initially make them cheaper therefore more appealing, however even allowing for that, many of these products will suffer by comparison to contemporary offerings. We are likely to see some renovation of financial product suites as certain legacy products are rationalised and others modified. Subsequent overhauls are anticipated for licensee approved product lists for licensees and platform menus.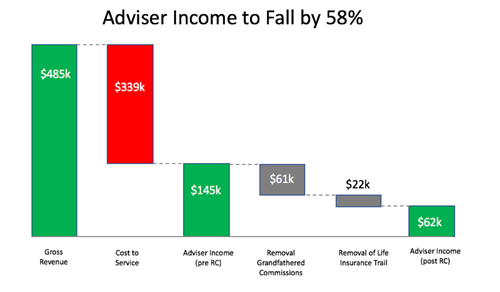 Looking at the decimation of adviser revenue, it might be worthwhile noting how Hayne came to his recommendations.
Hayne's reasoning, as noted in his Interim report begins:
"consideration of conflicts of interest, or more accurately, conflicts between duty and interest, begins from two simple points:
So long as advisers stand to benefit financially from clients acting on the advice that is given, the adviser's interests conflict with the client's interests.
So long as licensees stand to benefit financially from clients acting on the advice that is given, the licensee's interests conflict with the client's interests.
The client's interests always require consideration of whether to take any step, and only then, consideration of what steps to take. Doing nothing is an available choice. Sometimes it is the best choice.
If steps are to be taken, it is in the client's interests to take whatever steps are best for them (best both in the sense of achieving the best outcome for the client, but best also in the sense of achieving that outcome most efficiently at the best available price).
By contrast, the adviser's and licensee's interests are to have the client buy a product or make an investment that will give the adviser, the licensee, or both, a financial benefit. Not only is it in their interests to have the client do something rather than do nothing, it is in their interests to have the client take a step from which the adviser, the licensee, or both will benefit financially."
The pure legal rationality of what Hayne articulates here is logical, but advisers would no doubt take issue with this reasoning. It is after all in the adviser's interest (and law requires) to act in the client's best interest. Also assuming an adviser would always act to benefit themselves financially is akin to assuming all humans follow the out-dated model of homo-economicus, making rational choices to maximise their own utility. Advisers who deal with human clients making decisions on an everyday basis would certainly know that is not the case.
Regardless – Hayne justifies his reasoning by pointing to ASIC's January 2018 report – 'Financial Advice: Vertically Integrated Institutions and Conflicts of Interest',which showed "that (although) third party products made up nearly 80% of the (APL) lists, it also showed that, overall, more than two-thirds (by value) of the investments made by clients were made in in-house products.
His conclusion is as follows:
"The result is not surprising. Advisers may be expected to know more about the products manufactured by the licensee with which the advisers are associated than they know about a rival licensee's products. Advisers will often be readily persuaded that the products 'their' licensee offers are as good as, if not better than, those of a rival. And when those views align with the adviser's personal financial interests, advising the client to use an in-house product will much more often than not follow as night follows day.
It is the very fact that the result is not surprising that shows that the premise of the current law is flawed. It is not surprising that, despite the breadth of approved product lists, more than two-thirds (by value) of the investments made by clients of vertically integrated institutions were made in in-house products.And that is not surprising because experience shows, and has shown for decades, that, more often than not, interest trumps duty. But, as noted above, the premise for the FoFA reforms was that, although conflicts between the duties owed by an adviser or a licensee and the interests of that adviser or that licensee exist and must be recognised, those conflicts can be 'managed' and regulated. As I have said, the FoFA reforms were not designed to eliminate the conflicts, but to try to ameliorate their consequences."
Hayne concludes with "As the January 2018 ASIC report shows, however, the law, as it stands, has not resulted in conflicts being managed successfully"…which leads us to his recommendations to rid the industry of commissions. In addition to recommending the abolition of grandfathered commissions on all financial products, Commissioner Hayne said commissions on life insurance – which are now exempt from the ban on conflicted remuneration – should be dialled down and eventually phased out following the 2022 review - "Unless there is a clear justification for retaining those commissions, the cap should ultimately be reduced to zero," the Commissioner said.
It is understandable that many advisers would be unable to remain in the industry if the recommendations are made law. An "advice gap" looks to be an inevitable result - the increasing cost of fee for service advice risks alienating clients who will no longer be able to afford the up front fee. Many Australian's who potentially would have sought advice will no longer do so - or at least, they will have to wait till newer business models emerge that can service their needs. 
Article by:
Adviser Ratings
Was this helpful content?
Let others know - share and vote-up