Risk advisers were once a staple of the advice industry, but they now make up less than a tenth of the market, Adviser Ratings' analysis shows.

In fact, research from our recently released 2022 Australian Financial Advice Landscape Report shows there are now about 1,200 risk advisers operating across Australia, with more than a third of their workforce departing last year.

Given changes to revenue structures and increasing risk and complexity, it's difficult to argue these mass exits were unforeseen. In 2019 and 2020, risk advisers were exiting at a rate 2.4 times that of 'holistic' advisers, and last year that climbed to 2.48 times.

As we've noted in the past, the Life Insurance Framework has been a key catalyst for adviser exits from this market, especially when combined with the other factors affecting advisers in general.

As the final deadline for passing the exam approaches (for those who have failed twice), we expect further departures from the risk space.

What it means

The rapid change to the makeup of the industry has implications for orphaned clients, insurers and other advisers.

Insurers are now reporting that between 40 and 50 per cent of policies in some segments are being categorised as "orphaned". In other words, they are not being overseen by an adviser.

For advisers, things are becoming complicated. Advisers may correctly point out that you don't have to be a specialist to write risk; however, we are increasingly seeing non-risk advisers step away from that part of the business, largely due to complexity, cost and compliance. As figure 1 shows, more than 60 per cent of advisers do not advise on life or do so in a very limited capacity.

Figure 1 – Risky business: Proportions of risk advisers in Australia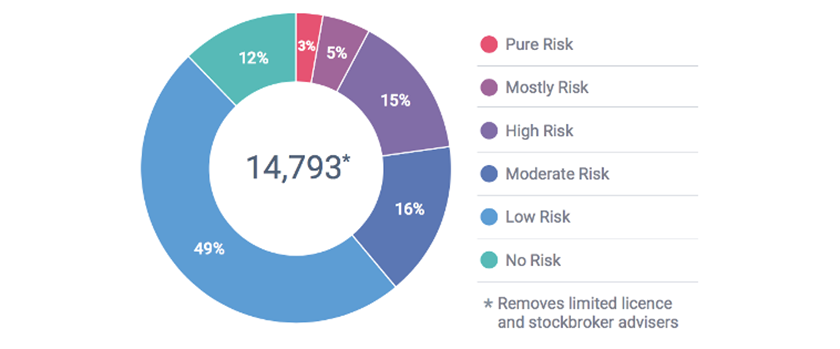 Source: Adviser Ratings' 2022 Australian Financial Advice Landscape Report

Figure 2 – Classification of different risk models



Source: Adviser Ratings' 2022 Australian Financial Advice Landscape Report

As for insurers, despite the contraction of the risk market, our surveys show they are bolstering their distribution channels. Most have told us they see the relationship with advisers and their practice as the top component of selling policies, but are naturally concerned about the falling risk adviser universe and its effects on commissions. Interestingly, the shrinking risk advice market has not made insurers any less aggressive in their sales targets.

Amid this market change, insurers will face increased pressure to improve their offerings. Advisers who do write risk are increasingly demanding better technology, service standards and ongoing support from insurers. In fact, advisers said that support and the ability to come to a decision quickly were their most prized attributes from insurers.

There is little on the horizon to suggest a significant turnaround for the fate of the risk advice industry. By this time next year, we may be facing a scenario where there are just a few hundred risk specialists left.
Article by:
Adviser Ratings
Was this helpful content?
Let others know - share and vote-up