Earlier this week, the Australian Prudential Regulation Authority's "Early Access to Super" numbers showed that at $28Bn, early withdrawals had surpassed the Government's projection that $27 billion would be withdrawn under the scheme.
Early data shows that high numbers have been withdrawn already in Tranche 2 - so not everyone drained their super fund the first time round. So... who's feeling optimistic come October? And how far above the governmentt projections will the second wave push us?

At Together Australia, we have assembled close to 300+ advisers, who will help you determine "pro bono" whether you need to access your super early. It might be worth a chat for some people before jumping straight onto the Australian Taxation Office's site.
Find an Early Access To Super Pro Bono Adviser Here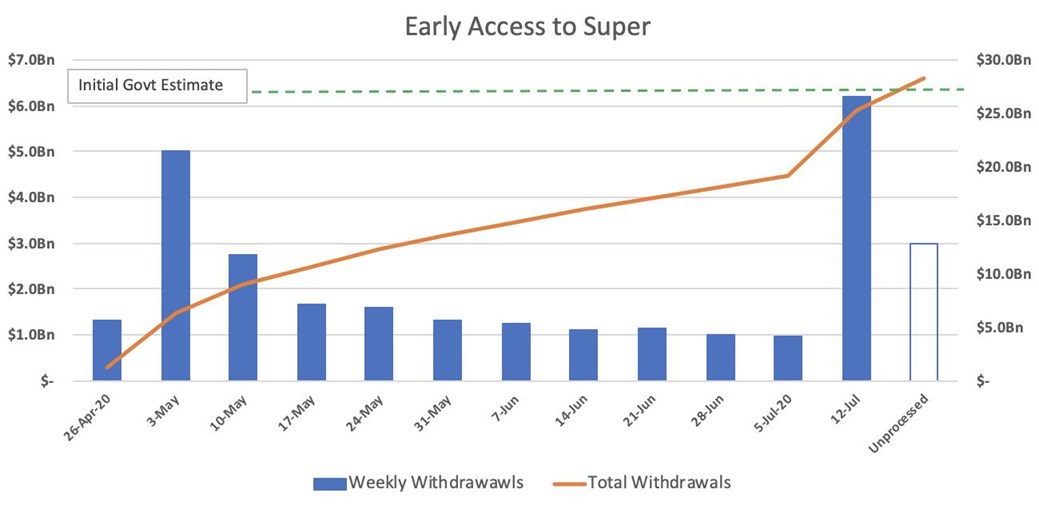 More than two-thirds of the total money withdrawn ($19Bn) and nearly 2.5 million applications have come from the Top Ten Super Funds - listed below.
The Top 10 Funds by dollar amount withdrawals under the governments scheme, and the number of applications they have each received are as follows:

1. AustralianSuper - $3.8Bn from 490k applications
2. Sunsuper- $2.8Bn from 381k
3. REST - $2.5Bn from 343k
4. Hostplus - $2.4Bn from 336k
5. Cbus Super Fund - $1.7Bn from 202k
6. BT Super Funds - $1.4Bn from 178k
7. HESTA - $1.3Bn from 167k
8. Colonial First State Super Funds - $1.2Bn from 158k
9. MLC Australia Super Funds - $1.0Bn from 131k
10. OnePath - $0.8Bn from 110k
Article by:
Adviser Ratings
Was this helpful content?
Let others know - share and vote-up