It would be remiss of us not to include a piece about the Federal Budget that was released last night, but we'll let the economists and financial experts such as financial advisers come to their own conclusions about what it means for the broader economy and what it means for individuals.
By Rodney Lester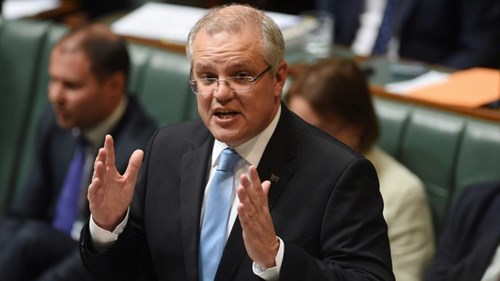 Scott Morrison explains the size of the deficit
There is currently a frenzy of immediate reporting of winners and losers (including News.com reporting that whales and dolphins were winners in the Budget as they would benefit from $200,000 going towards providing equipment and training for rescuers helping them when they beached). We think in a week or two, the narratives about the pro's and con's around this budget will be a bit more firmly set.
Waffle from the usual suspects
The media seems to envisage this Budget as something that Labor would have produced, had they been in power. Tony Abbot's former chief of staff Peta Credlin attacked the Budget, characterizing it as a "Labor 'tax and spend' Budget", saying "I don't think it is credible for the Coalition…this is not who we are as a Coalition, this is not who we are as Liberals".
Former Liberal and flag bearer for the hard right Corey Bernardi said the Government had delivered "economy sucking vampire measures" that would leave every Australian family worse off.
He probably meant "vampire sucking economic measures". We'll have to wait for clarification on that one.
Labor Leader Bill Shorten rejected the characterisation of the Budget as being "Labor-lite" saying "that's complete rubbish. Even a crocodile wouldn't swallow that this is a Labor budget." Quite what reptilian dietary preferences have to do with it is anyone's guess. Another Shorten zinger, I suppose.
Wisdom of experience
But, rather than listen too much to the ideological codswallop of partisan hacks (did anyone think Peta, Corey or Bill would say nice things about the Budget?), we prefer to take our queue from Laurie Oakes - the grizzled, veteran political commentator from Channel Nine, who's seen and heard it all before. Oakes, presciently looking at the long game said the Budget was "a clever political move that stole the thunder" of Opposition leader Bill Shorten by neutralising Labor on heartland issues such as Medicare, education and the banks." So this budget is not just about the economy – but politics, as always. 
Oakes was referencing several points including; increased health funding including dropping the freeze on Medicare rebates (costing $1 billion over 4 years); an increase in the Medicare levy to 2.5% to help fund the NDIS; $18.6 billion in extra funding for education under "Gonski Mk II"; and a levy on the big banks that is forecasted to raise more than $6 billion over 4 years.
Incidentally, with dazzling high numbers like these, we can really appreciate the value and importance of reporting the $200,000 going to beached marine mammals…
The LEVY
Already, much has been made of the multi-billion-dollar levy (not a tax) on the big banks. It is projected that the levy will cost the big four banks between $300-400 million each per year. Apparently as news of the levy was leaked, investors in the banks freaked out and $14 billion was wiped of the value of their stock. Australian Bankers Association chief executive Anna Bligh even said the measure could "threaten the stability" of the financial system.
What hasn't been talked about as much just yet, is that the budget also confirmed the government's intention to legislate the rest of its $48bn 10-year company tax cut plan. Although recently passed legislation starts the tax cut only for businesses with a turnover up to $50 Million, in April the Treasurer Scott Morrison said the government will present legislation for tax cuts for larger businesses when it believes it has the support of the Senate. If Laurie Oakes is right that support may come after the next election.
The point is that modeling done by the Australia Institute indicates that this proposed company tax cut would save the big 4 banks around $2 billion per year (based on 2015 figures), rising to over $3.4 billion per year in 10 years' time. (see table).
Table 1 Amount of Tax cut planned for individual companies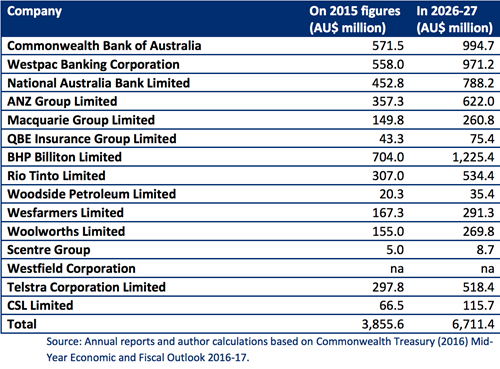 If these figures are right this might be the a case of not robbing Peter to pay Paul, but rather robbing Peter to pay Peter later as long as Peter "takes one" for the team and helps us win the next election.
So is this a "Labor-lite" budget? Such a dumb, redundant question, even though we posed it ourselves. It was delivered by the Coalition. It is a Coalition Budget. The commentators and the political hacks will try to frame the budget in a way that suits their purpose, there will be a bit of real and feigned outrage from all sides. One thing you can be sure of is that the government will definitely have an eye on the political and voter reaction to it. As with any federal Budget, the outcomes may not always be the 'best thing' for the economy because political considerations will come to the fore.
But since society itself is not a simple (or even complex) economic model, this is exactly what we should always expect.
Article by:
Rodney Lester
Was this helpful content?
Let others know - share and vote-up