We are seeking adviser feedback on platforms, risk, research, and technology companies. Feedback is collated to become the foundation of the permanent area for you to compare the best products and services in the market for you and your clients. Click here to have your say now.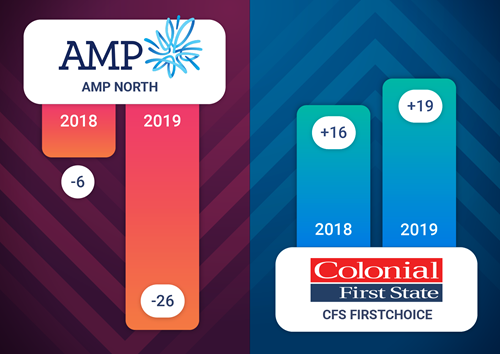 A week in from the launch of the Marketplace on Adviser Ratings - and we already have the first early insights. We are well aware of the travails of AMP, but it is now impacting the perception and performance of its investment platform - its net promoter score within the adviser community is reflecting its outflows.
Interestingly Colonial First State FirstChoice has bucked that trend and slightly increased its net promoter score over the last twelve months - even despite CBA disbanding Financial Wisdom and selling Count Financial to Countplus Limited.
With John Symonds circling the Aussie brand, could Commonwealth Bank be tempted to keep its strong platform business. Have your say on a whole range of products and services across the financial services industry and find out the best choices for you and your clients by clicking the link in the first comment. The platform will be a dynamic place for all advisers to rate, see other adviser's opinions like them and converse with all suppliers in the market.
Article by:
Adviser Ratings
Was this helpful content?
Let others know - share and vote-up