Rating and review websites of professionals in Australia just took a big leap forward with NIB, Bupa and HBF announcing a joint venture with doctor review site, whitecoat.com.au. With over 250,000 reviews, it is the predominant review site to find a specialist across the medical and health industries. The information asymmetry that's long existed in Australian business is slowly being broken down by such review sites. The spotlight is now being shone upon doctors' (whitecoat.com.au), real estate agents' (openagent.com.au) and financial advisers' (adviserratings.com.au) behaviour, service levels and expertise.
The Australian market has been somewhat of a laggard when it comes to information empowering consumer choices, with associations, corporations and government bodies protecting the level of information that ends up in the hands of consumers. In the UK for example, the National Health Service (www.nhs.gov.uk), publishes consumer patient surveys of all medical practices and ranks them against each other. Not only this, but you can evaluate the performance of doctors and specialists with all surgical results and the outcomes of patients in a public database for consumers to access.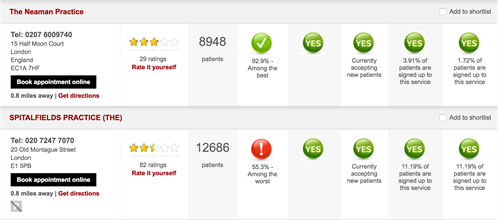 Source: NHS Patient survey site
In the United States, the Securities Exchange Commission (SEC) and the Financial Industry Regulatory Authority (FINRA) – Australia's equivalent ASIC - provide a library of information on all 500,000 financial advisers and brokers. The kind of information that consumers have on the people they entrust their life savings to includes:
Whether an adviser passed or failed their adviser exams, and which exams they passed or failed
Whether any customer complaints have ever been made against the adviser
Whether there have been any regulatory actions against the adviser
Whether the adviser has been terminated from any previous employer (licensee)
Whether there have been any civil or criminal proceedings against the adviser
Currently, Australia has an advice register (Advice Register) that lists all advisers and any past regulatory disqualifications or bans. Apart from the qualifications and memberships an adviser holds, there is scant detail on the other information a consumer might need to inform their choice of adviser. This is despite the information being well known within the industry and also with regulatory bodies. The Financial Ombudsman Service (www.fos.gov.au) a consumer and industry dispute resolution service, currently holds all customer complaints and rulings, yet this valuable data is not readily available to consumers. 
Adviser Ratings is filling that information void by harnessing the power of consumer reviews, just as Open Agent is doing for real estate and Whitecoat is doing in health. Adviser Ratings will continue to advocate on behalf of consumers for government bodies, dispute resolution services and corporates to be more transparent around the data they hold. Information and openness breeds trust and enables better decision making for consumers – trust is something the banking and wealth management industry is desperately in search of at the moment.
By Angus Woods, MD, Adviser Ratings
Was this helpful content?
Let others know - share and vote-up