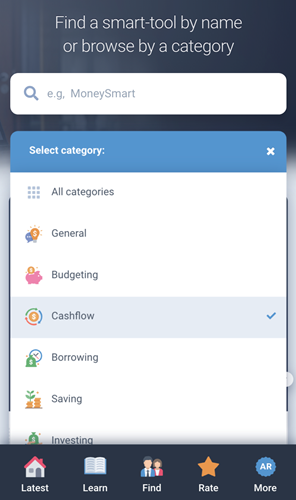 Adviser Ratings is the only independent consumer review and rating system on financial advisers in Australia. To compliment this service, we have now launched a new Robo-Advice register that allows you, the consumer, to rate and review the growing range of digital advice tools, commonly known as Robo-advisers.
This new register currently provides informative profiles on 36 digital smart tool solutions that consumers can access online to help navigate their finances. The tools span many areas, assisting with budgeting, financial advice, investing and post-retirement services, to name a few examples. You are able to compare the core propositions of each solution as well as review and rate each tool.
These tools offer significant potential to improve your financial literacy and help you engage with your finances. This may well be the start of your journey of taking control of your financial future!
To get started, simply go to the "Find Smart Tools" tab at the top of any page on our site– or select "Smart Tools" content type on your mobile. From here you can refine your search for the type of advice tool you want, for example if you want help with budgeting, saving, investing, super or tax planning.
You can then further refine your search using "Sort and filter available, for example, filtering by cost (is it a free or paid for service?), level of advice/type of help you want or even choosing which tools are targeted towards a particular "Life stage" you're at. Some tools target your needs when you're just starting out, others may be more beneficial for people who are more "established in their careers, and yet other tools specialise in those close to retirement.
We've already got some video reviews on many of the advice tools listed on our site – you can check out the minute long review videos that cover the basic propositions and offerings of some tools here.
If you've already started using some of the smart tools featured on the register make a review to help give other people feedback about your experience. It will also help the tool providers refine and improve their offerings.
We hope you will find our "Robo-Register" helpful, we think it will be a valuable contribution to help you navigate the rapidly changing financial landscape. Of course, if you don't find a suitable solution to your financial inquiry with a smart tool, you can always search for a traditional adviser here.
Article by:
Adviser Ratings
Was this helpful content?
Let others know - share and vote-up