As financial advisers, you would be under no illusion as to the effect of the constant stream of negative media generated by the royal commission. Adviser Ratings spoke directly to numerous advisers about how the attention was affecting their firms and in particular – their clients. Most advisers said they had been contacted by their clients with queries about if and how different news from the royal commission would affect them. Many advisers said they had been asked pointed questions about whether they were aware of (or would be implicated in) any of the nefarious activities that had come to light.
Here at Adviser Ratings, we are acutely aware of the negativity around the industry in the minds of the public. Blame is often attributed to the adviser, in spite of the many structural inadequacies inherent in the industry. Whilst we acknowledge some individuals have rightly been shown to be at fault, we are always at pains to point out the vast majority of advisers in Australia are honest, ethical, trustworthy and can be relied upon to make a constructive, positive impact on those who seek their services.
We want to educate consumers about the value of advice and to provide a place to counter the negativity that surrounds the industry. We are offering the opportunity for advisers to contribute to this end.
As part of our consumer campaign for the new financial year, Adviser Ratings is launching a re-designed home page and consumer interface (including adviser profiles). Amongst the changes, surfacing the hundreds of articles and videos we have on the site, and presenting them to consumer users, based on their search query, is a priority.
We are creating and sourcing all types of content that will be highlighted on Adviser Ratings during and after our consumer campaign – do you want YOUR articles or videos to be featured?
Help Challenge The Negativity
We are calling for advisers to submit content they would like to have published on Adviser Ratings. This can be existing content you have already used internally or unique new content. We are seeking all types of content (written for your clients or potential clients) including:
Commentary
Editorials

Top

Tips (What Consumers Should Know)
Good news stories
How

-

to guides
Infographics
Videos
Other articles
As part of our major re-fresh, your individual Adviser Ratings profile page will include links to any articles and content you have published on our site. This will provide further ways for advisers to differentiate their profiles from other advisers. We will promote this content ourselves on-site and via our newsletters and social media channels, but it also means there will be much more reward for those advisers who promote their profiles via their own channels.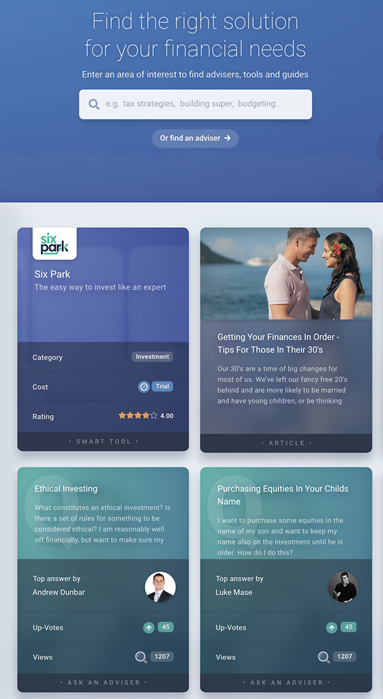 A sneak peek of the flavour of our site after our refresh which will co-incide with our consumer campaign 
We are looking for content that will help educate consumers regarding the value of financial advice:
Top tips on insurance, super, house-buying, investing, et

c

articles

that point out where they can benefit from advice
everyday example

s

of where you have helped people

(

like th

e reader)

achieve what they want
informative, engaging information that you think people should know abou

t

 
We won't accept advertorial content, but all accepted content will be credited and linked to the adviser it has been sourced from. Imagery will be vetted for the Adviser Ratings brand, and ownership rights checked, or we will send you an image to approve in conjunction with your piece.
We are embarking on this project, in order to generate a positive buzz from consumers reading or viewing these posts, so we encourage all advisers (or your marketing departments if you're lucky enough to have one) to think seriously about the opportunity this represents. Adviser Ratings is an independent site, not owned or influenced by any institutions in the advice space. We want Australians to get financial advice and we want to make a positive difference to the industry for both advisers and consumers. This is a fantastic opportunity to contribute to a positive perception of the industry as well as providing differentiation between yourself and other advisers.
The only thing we ask is that advisers who contribute have claimed their (free) profile – we will be linking to your profile so we do not want to link to an unclaimed profile. We reserve the right to edit content, but will seek author's permission to do so, before publishing (and of course, permission can be refused by the author). We also will reserve the right NOT to publish content.
Please sent any submissions you have, or any questions or queries to Rodney@adviserratings.com.au
Was this helpful content?
Let others know - share and vote-up