Banking giant CBA is currently engaged in consultation with its advisers regarding redundancies for many of its Commonwealth Financial Planning advisers and other advice related positions. This next round of advisers being cut from the bank comes off the back of over 20% of its advice network leaving Commonwealth Financial Planning last quarter and is part of the bank "reshaping their business model and adviser footprint".
Following CBA chief executive, Matt Comyn telling a Parliamentary Committee of the company's intention to remain in the advice arena only last week, the bank has confirmed it is in consultation with advisers from it Commonwealth Financial Planning licensee regarding redundancies.
Money Managementhas reported fewer than 100 advice and advice related positions are subject to this round of consultation, but the reduction of advisers would further shrink the bank representation amongst advisers and follows more than 120 advisers leaving the licensee last quarter.
Our chart shows that in Q3, the Commonwealth Financial Planning licensee shed 122 advisers, whilst another CBA aligned licensee, Financial Wisdom shed 66 ahead of its already announced closure next year.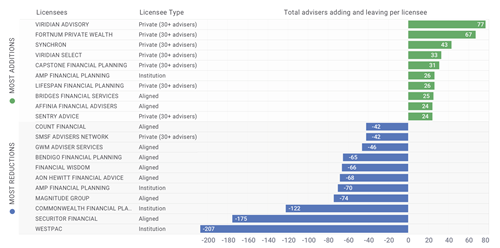 The "re-shaping" of the CBA's business model in wealth in taking place at the upper echelons of the company as well with the announcement that the chief of its wealth management and mortgage broking businesses (NewCo), Jason Yetton, and its business and private banking group executive, Adam Bennett, will both be leaving the bank in January next year.
CBA boss Matt Comyn has recently been signalling the banks change of direction in the space. In similar sentiments to those issued at AMP, Comyn has been promoting the potential for technology to fulfil the needs of Australians looking for financial advice.
Appearing before a parliamentary committee last week, Comyn noted the potential lack of availability for Australians to access advice because of the changes in market and a potentially smaller advice industry. Mentioning that the CBA still thought it was important to be able to provide that service to customers he said:
"We need to consider how we can develop a safe proposition, either using the model we have in place today, or, I would hope we would be able to develop over time an even simpler service that leverages technology and consistency and is able to deliver a basis service that I think frankly would serve at least 80 per cent of Australians very well."
In a formal statement, the CBA said that it was seeking to improve the quality of its service and customer experience and therefore needed to "reshape our business model and adviser footprint".
Article by:
Adviser Ratings
Was this helpful content?
Let others know - share and vote-up