It's no secret the financial adviser workforce is in freefall, but one segment of the market is departing at a much quicker pace than others.
Risk specialists are becoming a rarer species in advice, with more than double the exit rate of other advisers in the two years to December last year, our analysis shows.
At the start of this year, there were fewer than 1800 risk advisers in the Australian advice universe and we expect up to 700 to leave by the end of the 2021 calendar year.
The projection will come as little surprise to many. The combination of Life Insurance Framework (LIF) review, rising premiums and a pandemic-driven spike in claims from both new and existing clients has pushed many risk specialists towards the door.
Risk advisers are also not immune to generalised pressures plaguing the advice market, such as education deadlines and increasing compliance and professional obligations.  
Life after commissions
The stress on risk advisers is set to continue, as with many in the surviving cohort juggling an often unsustainable workload. With fewer risk specialists in the industry, the remainder are now shouldering much of their former colleagues' work, while transitioning to new remuneration structures.
Our research into the proportion of risk advisers planning to leave the industry reflects the impact of all these pressures.
As the chart below shows, almost a fifth of "pure risk" advisers signalled they would definitely leave the industry, while a further quarter were unsure. Pure risk advisers derived more than 80 per cent of their revenue from retail life commissions last year.
A similar proportion of "mostly risk" advisers plan to leave, but fewer are in the undecided camp. These advisers get between 50 and 80 per cent of their revenue from commissions.
However, our projections show the true exit rate could be much higher than that.
Risk advisers on whether they plan to leave the industry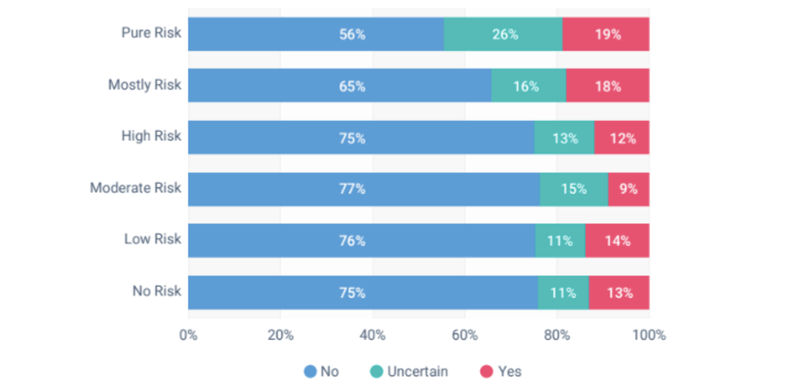 Source: AR Data; fasea.gov.au
At the other end of the spectrum, 13 per cent of the general adviser market said they would definitely depart, while 11 per cent were unsure. 
Can anything change the scenario?
As risk advisers leave the industry, their former clients often end up 'orphaned' and in the hands of insurers (who may keep the commission) or with lapsed policies. It's not an ideal scenario for clients – who may be underinsured – or insurers, who still have a very high proportion of their revenues generated from advisers.
While there are many structural factors leading to risk adviser departures, there are a couple of things insurers can do to try to hold onto risk advisers who are committed to the changing industry. One is to nourish relationships with valued advisers through BDMs.
Insurers also need to be setting the right pricing structures for clients who are dumping life policies, such as the young, healthy cohort.
While this alone won't be enough to turn around the trend, urgent work is needed to improve adviser sentiment towards insurers as risk specialists grapple with the confluence of changes over the last few years.
Article by:
Adviser Ratings
Was this helpful content?
Let others know - share and vote-up