For a consumer seeking financial advice for the first time, several factors may come into play when choosing an adviser. One of those factors may be whether they seek an aligned or non-aligned adviser. With headlines in the media about advice and general financial scandals, consumers could be forgiven for seeking out advisers who were not perceived to be associated with one of the offending companies.
It is important to note that the terms aligned, non-aligned and independent have been or are contested. According to Sterling Publishing (owners of ifa, risk adviser and other industry publications) in the broader financial community, what is colloquially known as the non-aligned financial advice sector equates to roughly 20 per cent of the industry or 4-6,000 individual practitioners. This describes financial planners that are self-licensed or licensed by companies not owned by or aligned to the major financial institutions (the big four banks plus AMP, insurance companies and the like). The same site notes that using the Australian Corporations Acts' definition of "independent" (which is far stricter and has more conditions) leaves only 40-100 financial planners legally being able to use the term independent.
Very recently we spoke to an adviser who felt obliged to remove "Independent" from their business name because they had just 2-3 products from one of these large institutions on their Approved Products List (APL) even though they were independent as far as all other criteria were concerned.
Notwithstanding this point, we want to take a brief look at some of the pros and cons that have been raised from various media publications on being an aligned or non-aligned adviser under its colloquially understood definition.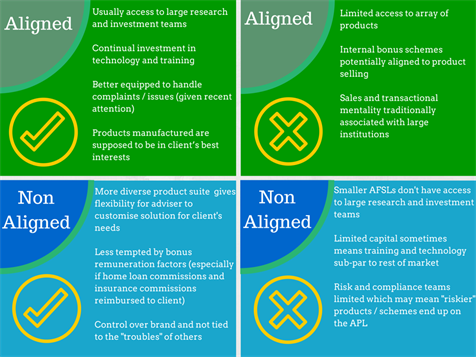 Source: Adviser Ratings
While not an exhaustive list, we sought comment from advisers regarding these points. Jake Ruse, Platinum adviser and MD of Innovative Wealth Management (which is licensed by Charter Financial Planning which is owned by AMP) said "the pros and cons noted are valid but should not be the only determining factors when choosing a financial planner or advisory group." He noted that "In reality it doesn't matter whether a financial planner is aligned or non-aligned provided they are working and acting in the best interests of the client".
"Non-aligned" Platinum adviser Phil Thompson of Rise Financial described himself as "passionate about truly independent financial advice" and argues that "when you remove all potential conflicts of interest, then you have the best environment and structure possible to provide advice that is in the best interest of the client only". (Thompson's impassioned reasoning and detailed reply to our points can be read here)
So both advisers agree that the key point is making sure advisers are working in the best interests of the client. This is the nub of the matter and the aspect that the "best interest" clause in Fofa attempts to set in stone.
The ways to achieve this are where the debate can get controversial.  Mr Ruse noted that "when seeking financial advisory services (aligned or non-aligned), one should conduct appropriate research on their financial planner, vet their qualifications, seek testimonials and check for any conflicts of interest." This sound advice puts part of the onus onto the consumer to vet the adviser. Mr Thompson argues that structurally removing all conflicts of interest (and reasons that potential for conflict is higher in some aspects with aligned advisers) is the only way to deliver the best interest outcome. This puts the onus on the industry to structurally negate potential conflicts and see that they are minimised as much as possible.
It should be noted that whether an adviser is considered aligned or non-aligned does not in itself guarantee that advice will be in the best interests of the client and that the alignment discussions are just one aspect of the best interest debate.
In our next edition we'll look further into alignment and ask what role compliance, higher education and culture play in attempting to get the best interests of consumers served.
Aligned or Non-aligned? Have your say below....
Article by:
Rodney Lester
Was this helpful content?
Let others know - share and vote-up