"My searches indicate that the Australian share market is overvalued. Does this mean we can expect a major correction shortly?"
- Graham in Cairns, Queensland
Top answer provided by:
James Mcfall
Thanks for your question Graham. Considering markets are choppy at the moment, it is well-timed.
With this said, it is our investment committees view that this is not the start of a major correction, in fact, signs are promising that with the vaccine roll out and with continued economic recovery, we should be entering a growth period from here.
There are several reasons for this which include:
Unprecedented levels of government spending that are expected to continue in many parts of the world
Historically low-interest rates, with Central Banks broadly citing a preference to keep them lower for longer
Vaccine rollout and economic recovery, coupled with the economy not performing as badly as was feared
Cash rates are so low that most cash at bank in Australia is lower than inflation, meaning the real value of money is going backwards on risk-free deposits. This is expected to result in some higher risk-taking
Bonds, which have traditionally been considered safe haven, now have a high risk of negative return, due to low yields and risks skewed to increasing rates over time, causing some investors to look elsewhere for returns. Some of this money is likely to find its way to the share market.
In terms of valuation, it depends on the individual stock you are looking at or in some cases, the sectors that you are looking at.
When you consider that share markets have largely made back the losses they suffered at the start of Covid (Australia's All Ordinary index in blue), it would be easy to assume that they have overshot. But on closer analysis, it starts to reveal that some sectors have done the heavy lifting in the recovery to date, like technology (Orange line). But other sectors like energy (Light blue line) for example are still languishing on a relative basis and have room to rerate positively.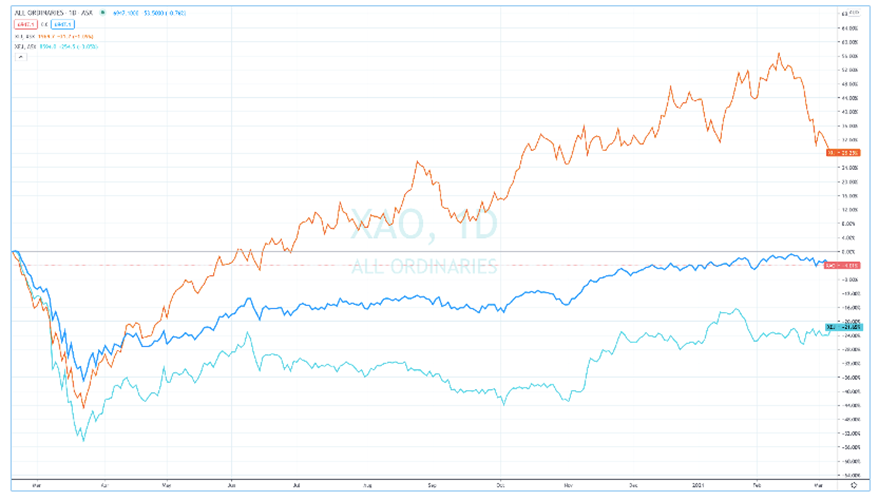 For Australia, we stand to benefit from the stronger economic outlook globally. Commodities are in high demand which in turn influences commodity prices and this will have a positive impact on our mining sector. Energy, which has been pummelled due to lower demand as you can see will benefit from stronger economic output around the world and has recovery head room. As will other Covid impacted industries like Travel and Infrastructure for example.
Of course, all of this depends on the vaccine rollout proving successful and no specific investment should be made without careful consideration of the investment's fundamentals and outlook.
Reading the Financial Review on the weekend, an article by Matthew Cranston provides a good summary of the growth forces we are experiencing at the moment in Australia that are likely to continue to support a growing share market. The thrust of his article though too is to question if our Politicians will have the fortitude to introduce the relevant reforms to our system, that will position Australia for growth well into the future or if in reality waste the long-term opportunity we have right now. In short, the decisions that are made now will certainly impact the long-term growth potential for the Australian market.
Of course, risks remain as they always do. Inflation is becoming a topic of concern for the first time in decades. This has caused bond yields to rise recently, which has created some volatility, though central bankers at this point are not showing concern. China presents risks to Australia and then the biggest risk is if the vaccine rollout does not prove to be successful, though, with so many vaccines available, this would appear a relatively low risk for now too. 
With all of the above in mind, we are investing as we always do. With caution! But we are currently positioned for growth.
While the Adviser Ratings Website facilitates the question and answer functionality, all such communications are between users and authorised financial advisers, of which Adviser Ratings has no affiliation. Adviser Ratings is not the advice provider and does not provide financial product advice and only provides information that is general in nature.
Was this helpful content?
Let others know - share and vote-up