It may come as a surprise that at any given time there is a significant number of financial advisers in Australia who are either moving, or considering a move from their current licensee to another. Then there are the new advisers entering the industry each year, ensuring adviser growth remains strong with a swathe of retirements in the industry.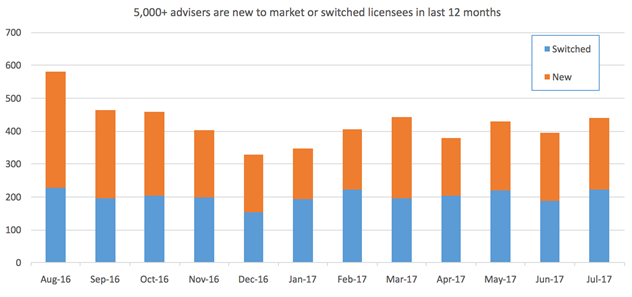 Source: ASIC
There are currently 24,000+ advisers in Australia under 7,000+ practices licensed by more 1,500 AFSLs. As the need for quality advice grows, so does the need for advisers to find competent AFSL partners.
There are many reasons why an adviser may choose to move to an alternative licensee, but some of the more common ones we hear consistently include:
Uncompetitive or out of date fee structures;
Complicated advice production;
Lack of succession planning;
Lack of education, training and compliance support;
Lack of independence (we tread carefully with this term);
The list goes on.
The team at Adviser Ratings are in constant dialogue with experienced and well regarded advisers providing us with feedback on their current licensees as well as seeking our guidance on who the top licensees in the market are, and in particular what their strategies are to keep pace with rapidly advancing technology and increased regulation and compliance.
On the other hand, we have daily interaction with licensees who are focussed on growth by attracting the best advisers - both salaried and self-employed or through acquisition. There is no doubt that that the opportunity and appetite for growth is unlike any other period in recent memory within the industry.
What is Adviser Connect?
At Adviser Ratings, we find ourselves in the unique position where we have a complete view of the market sitting squarely in the middle of advisers and licensees.
With that in mind Adviser Ratings is excited to announce the launch of our Adviser Connect service offering. The purpose of the offering is simple, working with best in breed financial advisers' and licensee groups to facilitate growth and success into the future. A large part of Adviser Connect will also assist principal practice owners who are looking at selling or exiting in some form from the industry.
At its core, it is a matching service between advisers and licensees. We have information on the licensee market - technology offering, lead generation opportunities, fee structures, compliance requirements, training support and so on.
We also have partnered with brokers and data organisations to help principals get the best price for the business.
We want to connect advisers (new and existing) and licensees with shared values and a vision of improving and enhancing the reputation of the industry, making quality advice more readily available and delivering better financial outcomes for all Australians.
The Launch and How to Get Involved
1. Firstly, we'd love to hear what you have to say in what licensee attributes are most important or you may be interested in hearing more about. The survey takes less than one minute - your confidentiality is important to us.
2. We will contact you to get an understanding of what areas of the service appeal and how we can help in matching you to the right licensee. 
3. Based on your needs, we will match you with licensees best suited to you. At all times, we will keep your information confidential as part of the enquiry process.
Click HERE to take the survey
Article by:
Adviser Ratings
Was this helpful content?
Let others know - share and vote-up