There has been much speculation that the new qualification regime facing advisers may help contribute to a crash total adviser numbers. It has been suggested across much of the industry media that this, combined with changing remuneration models may create potential reductions of 30% to 40% of all authorised representatives. While only time will tell if these predictions are correct, here we take a closer look at one of these catalysts that will no doubt influence the number of financial advisers in the industry in the short to medium term, educational qualifications.
In the near term, advisers were facing a relatively rapid regulatory upskilling – the newly established FASEA exam was to be completed by the end of 2020. In the medium term, advisers were also facing a more strenuous mandatory qualification requirement. New Entrants and Existing Advisers were also required to have completed a FASEA approved bachelor's degree (Australian Qualifications Framework level 7) or above or hold an equivalent qualification by Jan 1, 2024.
Breathing Space
Recent announcements have seen of a reprieve for advisers – at least in terms of timeframes.  After sustained lobbying from industry and member associations, the new Financial Services Minister, Senator Jane Hume announced a one-year extension to complete the FASEA exam. A potentially more notable extension that was also announced was an extra 2 years to meet FASEA qualification requirements.
A 2-year extension to become degree qualified could act as somewhat of a handbrake on a rush of advisers exiting the industry, as it gives advisers debating their future more time to solidify their plans. While the FASEA exam requirement still needs to be completed by the end of 2021, that should be more of an "inconvenient formality" for most practising advisers. Early results from the exams already held indicate a pass rate of over 90%. Potentially the more formidable obstacle for 'under-qualified" advisers is the bachelor's degree qualification.
Adviser Ratings preliminary analysis indicates there are about 40% of advisers not currently qualified to that level, and many more without FAESA approved degrees. The decision to take on a degree, which could take up to 3 or 4 years of full-time study, is certainly weighing heavily on many advisers – particularly those closer to retirement than their younger peers.
However, most advisers will not have to start from "scratch" and will get credit and recognition for prior learning. These advisers can obtain qualification through Recognition of Prior Learning (RPL) streams which their qualifications (including "relevant" – but not "approved" degrees) to date count for credits to waive the number of courses in the educational pathway. This means many advisers will not have to undertake a full bachelor's degree from beginning to end.
So, are the additional education requirements contributing to advisers leaving the industry? We've done some analysis on the educational qualifications of the 950 or so ceased advisers from Q3, which has thrown up some interesting results.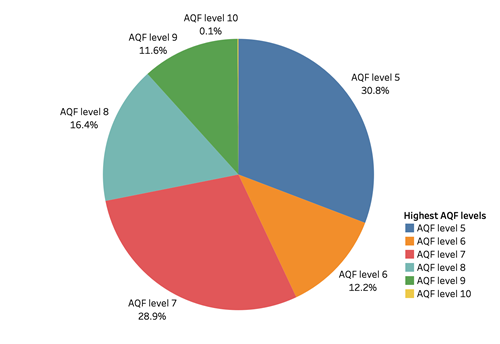 Our chart shows the highest education level proportions for those advises whose authorisations ceased in Q3. 57% of these advisers were bachelor's degree qualified or better, leaving only 43% who highest qualification was below the AQF level requirement. Now of course, it is to be noted that some, potentially many advisers may be "degree qualified" – but do not hold a FASEA approved degree. Our analysis of these advisers' qualifications indicates that around 5-7% of these advisers hold a bachelor's degree that is NOT approved by FASEA.
This means that around half the advisers who ceased authorisation this quarter were appropriately qualified, and half were not. These results on their own indicate it would be difficult to blame the heightened regulatory qualifications for adviser cessation at this point. We will follow these numbers with more rigorous analysis in the coming months to help determine the strength of any link between adviser qualifications and adviser cessation.
Other Factors
We must also factor in the exceptional transformation the industry is currently going through. With Institutional dominance evaporating before our eyes, migration of advisers from one licensee to the next is occurring at a greater rate than any time in the last decade. This means we cannot interpret ceased advisers' numbers as indicating advisers are leaving the industry for good. As we have seen with almost 250 advisers this quarter, many ceased advisers will return before long. We would expect the "returning adviser" dynamic to continue as more announced licensee shutdowns and mergers take place.
The other mitigating factor that stops us from reaching a definitive answer regarding the relationship between adviser cessation and qualification requirements at this stage is the deadline extension. The new deadline of January 1, 2026 is over 5 years away, giving advisers a further two-year buffer in which to determine whether whatever additional study they may have to undertake is worth their while. This reduction of time pressure may be just enough encouragement to keep many advisers who would have otherwise left the industry, engaged.
We'd love to hear advisers thoughts about remaining in the industry, and how much the qualification regime is factored into the decision making process. 
Article by:
Adviser ratings
Was this helpful content?
Let others know - share and vote-up