Clarification: The following numbers are indicative only. Pay data referenced below includes part-time employment and includes paraplanner salaries. For the purposes of this article, we have used Payscale to show a general theme of increasing salaries across the board.
In the past few years, many advisers have invested thousands in their education and development in the pursuit of professionalism.
The investment is a necessity to continue practising in the newly minted profession, but it also prompts the question: Will a wage rise follow?
All other things being equal, higher barriers to entry and ongoing development obligations are often associated with higher salaries. However, most advice businesses are grappling with hefty cost pressures as they wade through these uncharted waters. For this reason, some businesses may wait to reward staff.
Adviser Ratings took a look at the current state of affairs and a few of the key indicators suggesting advisers' salaries are under upward pressure.  
Where does advisers' pay stand?
Data from PayScale shows the average adviser was earning just shy of $78,000 last month.
However, advisers with more experience were earning closer to six figures, PayScale showed. An adviser with 10-19 years' experience was on an average $99,000, while an adviser with 20+ years' experience was on an average $102,000.
Meanwhile, analysis from Striver in our Landscape Report shows the average graduate recruit was earning around $55,000 at the start of this year and Adviser Ratings data shows the average salary of an experienced full time adviser was $130,000.
The factors pointing to wage increases
The most obvious factor indicating wages need to rise is the supply and demand imbalance. Adviser Ratings analysis suggests the number of advisers in Australia will fall to 13,500 by 2023. At the same time, the pipeline of new talent is still looking bleak. Low supply will put upward pressure on wages.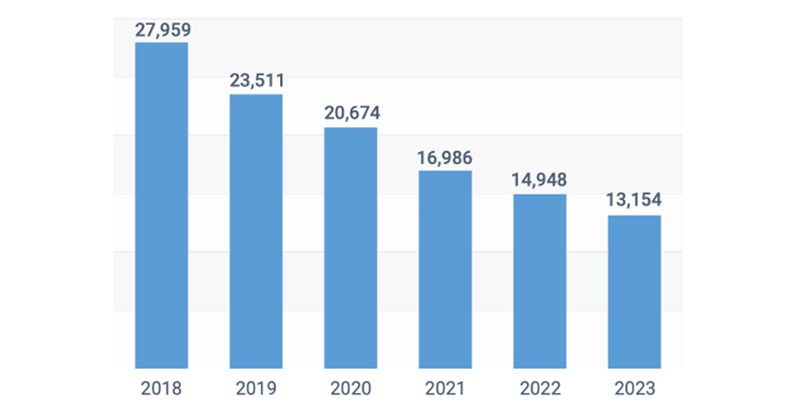 Source: AR data
Secondly, the demand for financial advice is skyrocketing as Baby Boomers prepare for retirement. With fewer advisers to service an insatiable demand, salaries can go in only one direction.
Thirdly, increasing participation costs – such as for education and professional development – are pushing both new and existing advisers to demand higher salaries. These pressures are ballooning as more advisers complete their education and ethics requirements and recognise they are among just a few thousand competing in their profession.
Finally, analysis from our most recent Musical Chairs report shows advisers have been seeking stability in the past few months as they cope with the COVID-19 lockdowns in several states. As Sydney and Melbourne move to exit lockdowns, we expect further mobility in the advice market. Again, this will put upward pressure on wages, as businesses compete for talent, and advisers who don't receive what they expect vote with their feet. See how state lockdowns have affected adviser movements in our next edition of Musical Chairs, due out later this month. 
It's worth reiterating that these wage pressures will cause headaches for many businesses that are trying to keep costs low through a difficult year. Some of these businesses may move to other forms of incentivisation to keep talent, such as flexible work arrangements.
However, with all signs pointing to a salary increase, for most advisers it will be more a matter of when than if.
Article by:
Adviser Ratings
Was this helpful content?
Let others know - share and vote-up