It's probably no surprise that advisers are suffering high levels of burnout and stress. With increasing workloads, compliance and regulation, the public perception post-Hayne Royal Commission and now COVID-19, it has been far from an easy ride for any financial adviser.
It's reached a point where almost two in five surveyed advisers have said they would consider leaving the industry due to stress, according to a recent study. A further 17 per cent said they were unsure if they will stay in financial advice.
The research from Dr Adam Fraser's e-lab, Deakin University and AIA surveyed advisers in two parts about their wellbeing and physical and mental health. Scores were then compared to other industries, including mortgage broking, human resources, executive-level roles and school principals.
To complete the research, two studies were done. The first surveyed 43 advisers and asked them to keep a diary over a week. The advisers were also interviewed. The second study asked more than 700 advisers the same survey questions from the first study.  
From the second study, most advisers were male, 40+ and working more than 50 hours a week. Most had completed their FASEA exam.
"Concerningly, we found that advisers had the lowest scores in areas of wellbeing, mental and physical health and higher scores in terms of stress, burnout and work overload than any industry we had previously studied," Dr Fraser said.
Regulation and compliance were listed as the top concerns among the studied advisers.
Researchers said the findings cast doubt about the sustainability of the advice profession.
Key findings
The research found the following among the sample group:
 - 73% of advisers have high levels of work burnout.
 - 33% of advisers have sought medical help to manage work-related stress.
 - 17% of advisers said they were depressed most or all of the time.
 - 42% are considering leaving financial advice as a result of stress.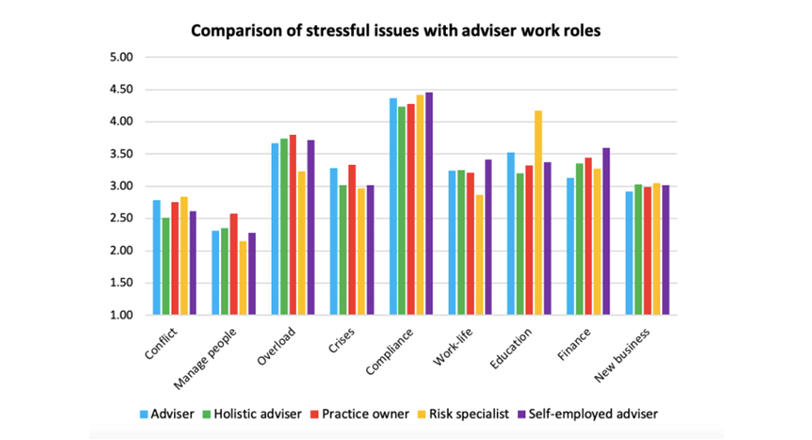 Source: The E-Lab and Deakin University. 2021. Sponsored by AIA Australia.
Evidence of coping skills
Although the headline figures are alarming, one of the researchers, Dr John Molineux of Deakin University, said there was also evidence of resilience and recovery among the studied advisers.
"There is hope, as pathways for help are becoming available and many of the advisers we interviewed are learning, coping, adapting, recovering and moving away from stress reactions which can prevent us from taking positive action."
A minority of the surveyed advisers also defied the general trend and showed strong wellbeing, mental health, worklife balance and business growth.
Researchers said while there were no standout demographic characteristics among the group they described as "thrivers", these advisers made their wellbeing a priority, showed psychological flexibility, optimism or resilience, adaptive performance and an interest in engaging in industry support.
Help and support is available
The study's authors made the following recommendations for advisers who are struggling.
Work on specific psychological skills, such as psychological capital (resilience, optimism hope), flexibility and adaptive performance (changing behaviour to suit the changing environment).
Seek help, including from licensees and associations.
Participate in associations (as opposed to being an inactive member)
Get a mentor or coach
Reduce stress outside of work with exercise, mindfulness, relaxation or hobbies.
You can read the full report here.
If you, a loved one or a colleague needs urgent mental health support, you can always contact Lifeline on 13 11 14.
Article by:
Adviser Ratings
Was this helpful content?
Let others know - share and vote-up