In my personal search for a research provider, I recently googled the term "Top Stock Picks Australia 2015" and the second search item that came up was an article from the Motley Fool Australia site, a well known investment recommendation site. So, how have their share picks performed so far in 2015…..
Before we go on, this is not meant to be a critical article of Motley Fool Australia, but it does highlight the value of your adviser is not in stock picking but in helping you achieve your goals.  
So, if I were to have followed the Motely Fool's contributors 3 top stock picks for 2015 versus the market, how would I have performed to date (acknowledging we are only 3 quarters of the way there). I aggregated all the contributors tips - two stock recommendations overlapped, that of "Shine Corporation" and the other of "Slater and Gordon". I have assumed we would "double up" on these investments.
In summary:
7 recommendations outperformed the ASX200
16 recommendations underperfomed the ASX200
1 recommendation has gone into liquidation
We saw an average loss on the investments over 9 months of approximately 12.27% versus an ASX200 loss of 9.10%. 
So, what does this tell us?
Firstly, stock picking is not an easy game....as research professionals, we should obviously be looking at their longer term picks before we make any judgement on their ability to outperform the market.
Secondly, it is not your adviser's responsibilities to be stock pickers - they rely on the research of their licensee's affiliated research house.
Thirdly, if you are in individual stocks, make sure you have a good exposure to a wide variety of the market (often when one sector is underperforming, another is over-performing).
Fourthly, don't use online research and "top stock" selection articles to inform your share investment strategy!
See the full list below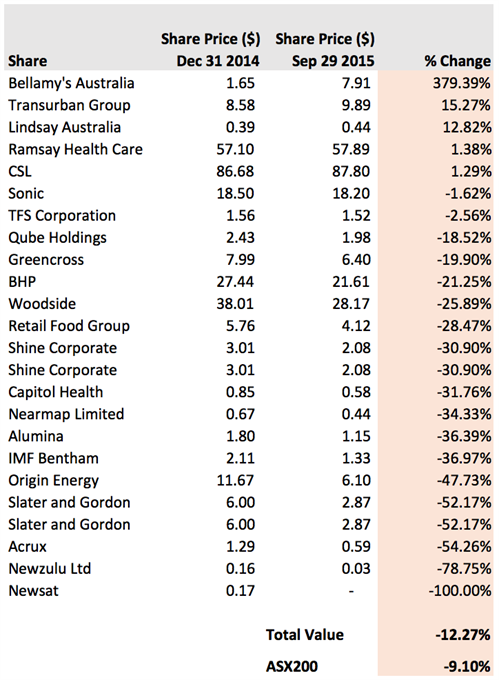 ASIC's MoneySmart website provides good tips on what investing in the stock market entails, as well as information on complex investments.
by Angus Woods, MD, Adviser Ratings
Was this helpful content?
Let others know - share and vote-up