Advisers are divided about whether industry colleagues who have twice failed the FASEA exam should be able to continue practising next year, with a slight majority rejecting the measure.
An Adviser Ratings poll asked the question in November, garnering hundreds of responses from advisers. More than 60 per cent said they were not in favour, while 39 per cent said they were in favour.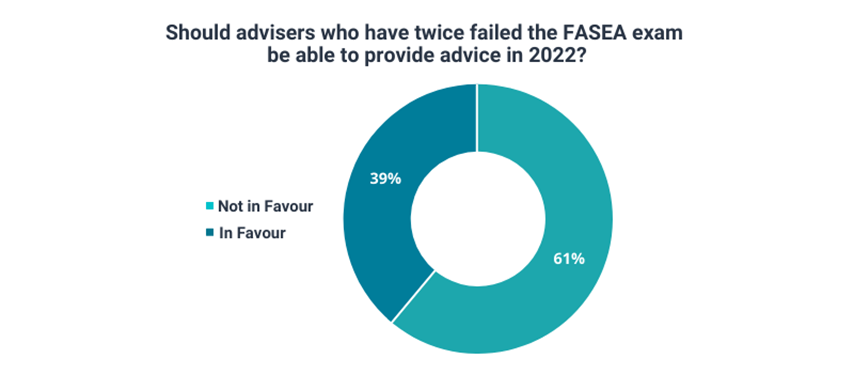 The poll follows the lifeline from Treasurer Josh Frydenberg and Minister for Financial Services Jane Hume earlier this year, which granted advisers who have twice failed the mandatory exam an extension, to September 2022, to complete it successfully (now confirmed as October 1, 2022).
At the time of the announcement, Senator Hume said the measure was introduced in light of the COVID-19 pandemic.
"Today, acknowledging the effects of a 1-in-100-years pandemic and the disruption it has caused to lives and businesses, the Morrison Government has announced very limited changes to FASEA exam requirements," she wrote on LinkedIn.
"For those who have made two genuine attempts to pass the FASEA exam and were unable [to], there will be a one-time, limited extension into next year. There will be at least one further opportunity to pass the exam offered in 2022 for those who qualify for the exemption."
Senator Hume said the extension would be given only to advisers who attempted the exam twice before the end of 2021.
Not all advisers were happy about this move, given thousands had studied and passed within the original timeframe. 
The state of play
At the time of writing, almost 17,000 advisers had passed the FASEA exam, which represents roughly 90 per cent of the active industry, Adviser Ratings analysis shows. More than 19,000 advisers have sat the exam at least once.
Most of the advisers who have passed the exam are practising: 14630 are active advisers on ASIC's Financial Advisers Register (FAR); 1840 are recorded as 'ceased advisers' on the FAR and may be reauthorised; and 360 are new entrants, FASEA's latest update states.
FASEA has also reported that roughly nine in 10 people who have sat the exam have passed it, which it said "reflects that the Exam is an achievable exam for competent relevant providers, regardless of their area of specialisation".
Even so, almost a third of the advisers who sat the September 2021 exam had attempted it unsuccessfully in the past.
Among those who underperformed on that September 2021 exam, one area commonly needing improvement was financial advice legal and regulatory obligations, including Chapter 7 of the Corporations Act. Other areas of underperformance among those who failed included ethical and professional reasoning and the context in which financial advice is given and requested and how that affects decision-making.  
Article by:
Adviser Ratings
Was this helpful content?
Let others know - share and vote-up