As part of our promised efforts to "de-mystify" financial advice, we are proud to unveil a fantastic new addition to our site – the Consumer Centre, which will help lead and support you on your journey through economic education and Financial Advice.
The Consumer Centre will provide an information hub for ordinary Australians to access information about Financial Advice, economic and industry updates, financial tips and other interesting articles. It will also provide additional information about Financial Advisers on our site including Adviser Profiles and of course the "Ask an Adviser" questions and responses that we have previously published in our newsletters.

Matching Advisers to Search Queries
Front and centre in this consumer space is our new search function that allows you to easily search the site for any articles we have on the topic of your choice. All the content on the site is tagged by topics that relate directly to the list of skillsets that advisers have indicated they handle in their profiles.
This feature allows us to highlight a selection of advisers who are able to be contacted (who have skillsets relating to the article topic) at the end of the article, should you wish to contact such a specialist.
Ask an Adviser – Enhanced and expanded
In the event that we don't have an article that satisfies a particular query, the consumer centre includes our new Ask an Adviser feature, where you can submit a question which is allocated to one or more advisers, so that your query is answered directly. We are proud to say we have over 100 advisers at hand who are willing to answer your request and we expect this number to grow.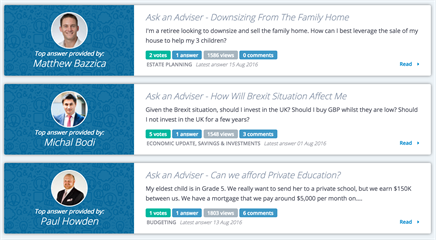 We are delighted to announce the consumer centre as part of our determined effort to engage with consumers, to improve the understanding of the value of financial advice, and to increase the profile and accessibility of great financial advisers across Australia. This effort is being complemented by our initial radio advertising campaign that has commenced in Sydney, which we plan to roll out in other centres in the coming weeks.
We will continue to make improvements to our site and already have more features in development for the not too distant future. Our Library of information will continue to grow, so make sure you check back regularly for interesting information, great professional advice and if you have any questions regarding financial advice – be sure to take advantage of this free initiative and use our forum to ask an adviser today!
By Rodney Lester, Adviser Ratings
Article by:
Rodney Lester
Was this helpful content?
Let others know - share and vote-up