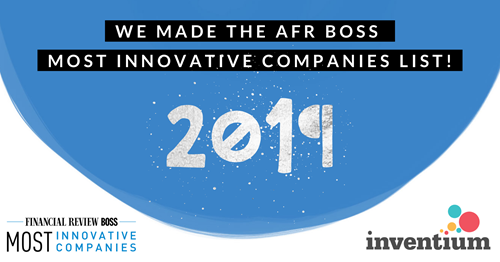 Adviser Ratings is proud to announce we have ranked in the top 10 of the Australian Financial Review's Most Innovative Companies in the Banking, Superannuation and Financial Services sector for 2019.
The awards, announced at a Gala event in Sydney last night, recognised Adviser Ratings as one of Australia and New Zealand's Most Innovative Companies. The prestigious annual list, published by The Australian Financial Review and Boss Magazine, is based on a rigorous assessment process managed by Australia's leading innovation consultancy Inventium, in conjunction with a panel of industry expert judges.
Adviser Ratings founder Angus Woods said "This is fantastic recognition for the work that Adviser Ratings has been doing to support the financial advice sector.  With the industry in a state of flux, and advisers coming to terms with the new regulatory environment, our business is bringing an unprecedented level of data and transparency that is benefitting the advisers, product vendors and, ultimately the consumer.  We expect that the disruption currently being experienced will result in a more robust and transparent financial advice sector and Adviser Ratings is thrilled to be playing an integral part in supporting it."
In determining the award finalists, the judges looked at how valuable the problem the innovation is solving, the quality and uniqueness of the solution, and the level of impact that the innovation has had. Internal elements are also assessed such as innovation culture, strategy, resources and process, that demonstrate a sustainable and repeatable approach to innovation. 
Article by:
Adviser Ratings
Was this helpful content?
Let others know - share and vote-up