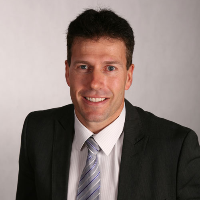 Robert Goudie is rated as a platinum adviser with an average customer rating of 96% from over 120 reviews. Robert works at Meritum Financial Group in Horsham, Victoria.
1. Best thing about being a financial adviser?
My passion is to work with Self-Managed Super Fund Trustee's and other Motivated Investors who love having control and input as to how their money is invested for their future. 
For the past 18 years I've been working as a financial advisor helping superannuation investors, small business owners (including farmers) and direct share enthusiasts on how to take back control of their financial situation from the banks and the large institutions.
2. One thing you would like to see improved or changed in the industry?
I would love to see a move away from product advice to an educational and coaching approach centred on sound strategy. 
Trust can only be gained by educating clients which gives them the understanding and confidence to make their own educated decisions.
3. The areas on their finances or economy that worry your clients the most?
For the retirees it's the volatility of the markets, we put a huge amount of time and resources into educating our clients about market movements, in particular about ignoring short term fluctuations and focusing on quality businesses.
For the younger generations it's all about cash flow, which is a flow on effect from Australia's high household debt levels. We are providing management tools and resources to help take control of their cash flows and schedule debt repayments in a time line that suits our clients and not the banks.
4. What's the strangest question a client has ever asked you?
How did you make the leap from being a potter to financial advising?  
In a previous life (the early 90s) I worked full time as production potter in the local pottery making domestic where such as coffee mugs and canisters. 
Our coffee mugs sold for $12.50 each 26 years ago, while our mugs were nice, we could just couldn't compete with China selling coffee mugs for $6 for a set of six. 
5. If you could get three things into consumers' heads about what advisers do or don't do what would they be? 
a) We don't have "get rich quick" schemes or the inside tip that will pay for your children's university. Nothing is going to return you 1000% overnight. We do however, have excruciatingly boring sound financial advice to help meet your goals over the long term.
b) We do understand there are sometimes deeper issues behind your questions… (And if we dig deep into the emotional motivations behind a financial concern, we're much more likely to end up with the right solution for you.)
c) We don't prepare your tax return… sorry, that's your accountant's job.
6. How do you describe your job at BBQs?
I never bring up investing or the stock market when I'm around my friends. While I love speaking about the markets and businesses behind it, I never want to feel like I'm overselling myself. If they want to ask me a question, I'm always happy to help them out.
7. Who, or what, is your biggest inspiration? 
My biggest inspiration in business is "common sense". All decisions have to pass a common sense test which is something I've inherited from my family. 
8. How did your school report describe you (in three words)?
Very easily distracted
Article by:
Robert Goudie
Was this helpful content?
Let others know - share and vote-up