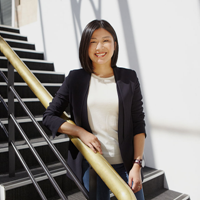 Nicole Niu believes the best way to become trusted by her clients is to operate with integrity and transparency. A silver adviser with 5 reviews and an average client rating of 4.81 out of 5 stars, Nicole is the Principal adviser and Money Coach at Magnet Money Management in Heidelberg in Victoria.
1. Best thing about being a financial adviser?
The best thing about being a financial adviser for me is that I get to work with the coolest clients, help them discover the possibilities of their lives that they have never thought of before, and just see them flourish.
2. One thing you would like to see improved or changed in the industry?
I would really like to see better practice efficiency and technology development in the industry to make quality advice from a human adviser more affordable.
3. The areas on their finances or economy that worry your clients the most?
The worry of not having enough money to retire on would be a common theme in my clients. Some investors worry about the removal of negative gearing, which is a good education point for me to step in and turn their focus on earnings instead of losses.
4. What's the strangest question a client has ever asked you?
"Can you be my mentor, Nicole?" I had just finished a two-hour long over-the-phone initial meeting and my client asked me this. There was no advice given and all we went through was his life, family, education about economic conditions, inflation and investment trade-off, and how these factors could impact his money. The strange (and also very flattering) part was that I was in my late 20s and the client was in his mid-50s. I gladly told him to feel free to discuss anything with me!
5. If you could get three things into consumers' heads about what advisers do or don't do what would they be?
a) We know a little about everything, and we are like your GP - not in medicine, but in your personal finances. Similar to your medical GP, because we have a lot of knowledge about you and may pick up the things that you wouldn't, it's always a good idea to check in with us regularly and let us know what's happening with your life.
b) We handle insurance claims and usually could give you predictable results, and we only charge a fraction of what a lawyer would!
c) No, we really can't tell you which property to buy unless being authorised otherwise.
6. How do you describe your job at BBQs?
I am a financial adviser by trade, but I like to think of myself as a problem solver. Do you have a problem?
7. What's your personality like?
I can be very passionate and talking too much when it comes to financial education. Whenever people ask me a question, I would have a burning desire to write them a whole book about it! People have, in fact, suggested to me that I should write a book, and I am considering it.
8. What is it in for me to see a financial adviser?
The value of financial advice goes beyond money. Many people feel happier, more confident with their life, and have more peace of mind and fewer arguments with their loved ones when they receive financial advice from a caring long-term financial adviser. The first meeting is always free, so talk to us and see what we can do for you and your family!
Was this helpful content?
Let others know - share and vote-up