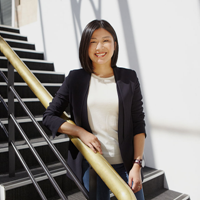 Nicole Niu believes that financial wellbeing is about more than just crunching numbers. It's about having the freedom to spend quality time doing what you love and having peace of mind knowing that your finances are secure. She understands that your goals go beyond dollars and cents – they're about living a fulfilling life with clarity and confidence.  
Not only does Nicole excel in her career as a financial adviser, but she also shares her expertise as a university lecturer and curriculum writer at Victoria University. By teaching financial planning to the next generation of advisers, she's actively shaping the future of the profession.

Clients rave about their experiences with Nicole. They say that she helps them understand themselves better and provides clear, practical guidance. With her by your side, you'll gain the clarity, confidence, and direction you need to make smart financial decisions. And as a compassionate female finance professional, Nicole truly understands your emotional needs, not just the technical aspects of financial advice.

When you work with Nicole Niu, you'll find a supportive and approachable adviser who genuinely cares about your financial wellbeing. She's here to help you achieve your goals, live your best life, and make sense of your finances in a way that feels comfortable and relatable. Get ready for a positive and empowering financial journey with Nicole!
Was this helpful content?
Let others know - share and vote-up