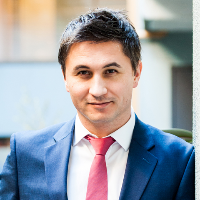 Our Adviser Profile this week is Michal Bodi, a Platinum Adviser with 86 reviews and an average client rating of 4.93 out of 5 Stars. Michal is a Senior Financial Planner at Sydney Financial Planning in the Sydney CBD.

Best thing about being a financial adviser?
I'm in the business of time. The pride and satisfaction you get from coaching someone to make the right financial decisions, so they will never look back in time and experience that awful feeling of regret, is priceless.
As clients transform from having stressful relationship with money to more meaningful relationship with money they start experiencing more confidence and overall clarity about their own future.  
One thing you would like to see improved or changed in the industry?
See financial planners and advisers spend less time being portfolio managers and more time delivering valuable advice that will put people's minds at ease.
The areas on their finances or economy that worry your clients the most?
Our ongoing client program is based on focusing on variables we can control. The economy isn't one of them, therefore it isn't generally a subject of our conversations.
Most clients come to our office with a number of concerns. However, it very often boils down to them being worried about the way they manage their relationship with money.
What's the strangest question a client has ever asked you?
'What do you think the economy/market/interest rates will do in the next X amount of weeks/months/years?'
In case you wanted to know the answer: 'I don't know and I genuinely don't care…'
If you could get three things into consumers' heads about what advisers do or don't do what would they be?
If I may, I'll answer the question by listing things a good adviser should never do:
a) Jump into preparing an investment portfolio without formulating a time and dollar specific plan. A portfolio without a plan means nothing.
b) Formulate a plan without understanding client's perceptions of risk, safety, life experiences, and daily expenditure habits. Often the best value plans we prepare address clients' practical and emotional matters.
c) Promise to deliver what they can never achieve – like investment performance. It's often the main focus, but bluntly it can never be predicted, controlled and delivered. Instead the emphasis should be on the investor performance – how they perceive what's going on around them and how they re-act (or not). It's the only variable we can fully control together and can therefore deliver the outcomes people desire.
How do you describe your job at BBQs?
I teach people what they should have learned at school – the practical use of money and then coach them to ensure they implement what they've learned.
What are some financial newspapers that Australian investors should subscribe to?
The more newspapers you read and more news you watch, the more noise you're exposed to and more confused you get. Instead, seek professional advice that will provide you with clarity and focus and guide you to achieve your life goals.
What is the single most effective piece of financial advice you've ever received?
Hire a third party professional who will objectively advise you on your money decisions. Even if you're an adviser yourself.
We're all too distracted, busy and bogged down in our noisy and complex lives to see things objectively. When it comes to money decisions especially, the more money is involved, the more emotional our decisions will be. Don't put that stress on yourself. Outsource it to someone who will keep your financial life simple and elegant.
Was this helpful content?
Let others know - share and vote-up