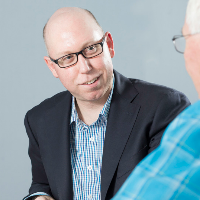 Our Adviser Profile this week is Lyle Greig, a Platinum Adviser with 46 reviews and an average client rating of 97%. Lyle works out of Bridges Financial Services at Hurstville in Sydney.
1. Best thing about being a financial adviser?
A great part of my job is playing a part in clients achieving their retirement dreams. I enjoy looking after clients so they can relax and enjoy their life. Being a client's most trusted adviser is a privilege and responsibility I don't take for granted.
2. One thing you would like to see improved or changed in the industry?
I would like to see a better public perception of financial advisers. There are many great advisers in Australia, but unfortunately many generalisations about financial advice are made by the media and the public. Adviser Ratings is helping financial advisers remedy this.
3. The areas on their finances or economy that worry your clients the most?
Many of my clients are currently worried about the low interest rate environment and the potential for another GFC. Changes to super and social security laws are also a constant frustration for clients. 
4. What's the strangest question a client has ever asked you?
The strangest thing a client has ever asked me is, 'Can you guarantee my investment returns?' My answer is that risk is something to manage, not fear. Take away the risk and you take away any chance of a reasonable investment return.
5. If you could get three things into consumers' heads about what advisers do or don't do what would they be?
a) An adviser starts with you as an individual, then determines strategies that suit your personal circumstances. Products and investments are a means to an end;
b) There is no silver bullet when it comes to financial planning and wealth creation. It is about 'getting rich' slowly and not taking unnecessary risks. You need to be utilising all strategies that are available and suitable for you;
c) A good adviser is in regular contact with you but it takes two hands to clap. Clients should make an effort to engage and keep in contact with their adviser. The best client/adviser relationships are built on mutual respect and understanding.
6. How do you describe your job at BBQs?
I advise on financial strategies and look after clients' investments and super so they can enjoy a comfortable retirement.
Was this helpful content?
Let others know - share and vote-up