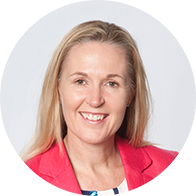 Judy Power is a Platinum Adviser with 17 reviews and an average client rating of 98%. Judy is the Principal at NAB Financial Planning Upper Mount Gravatt, in Brisbane
1. Best thing about being a financial adviser?
Seeing how I have made a difference to a person's life by helping them achieve their goals and doing something that is worthwhile that helps others whilst achieving my own goals at the same time. 
2. One thing you would like to see improved or changed in the industry?
The complexity of legislation as this ultimately impacts on the cost which inhibits people from getting advice.
3. The areas on their finances or economy that worry your clients the most?
Whether they will have enough to retire on and if their money will last.
4. What's the strangest question a client has ever asked you?
Will I lose everything if Trump gets in?
5. If you could get three things into consumers' heads about what advisers do or don't do what would they be?
a) We are there to help but it doesn't happen overnight – it takes time and discipline in order to see the benefits of the advice.
b) We don't control markets – ultimately the market is outside of our control but we can be a guide.
c) We can't perform miracles
6. How do you describe your job at BBQs?
To ensure that people know the facts not what you hear in the media.
Was this helpful content?
Let others know - share and vote-up