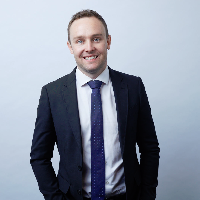 Our Adviser Profile this week is Josh Wingrove, a Platinum adviser with an Adviser Rating of 100% and 32 client reviews with an average client rating of 99%. Josh is a Director and award winning adviser at Pursue Wealth, in South Melbourne.
1. Best thing about being a financial adviser?
By far the best part of being a Financial Adviser is seeing a member of Pursue Wealth achieve a goal that they have been working towards for a long time! Happiness is setting the bar high and achieving it. This is what gets me out of bed, seeing other people smash their goals! It's a great feeling knowing you have directly impacted someone's life for the better!
2. One thing you would like to see improved or changed in the industry?
I would love to see more Gen Y's seeking financial advice! Currently the number of 25-35 year old's seeking financial advice is only 5% even though 65% of them would like to get financial advice. Come on guys- get into gear, you wont look back!
3. The areas on their finances or economy that worry your clients the most?
The most common area's I see our members are worried about are:
Cashflow and budgeting- what to do with excess cash or how to create excess cash
How do they get into the property market with prices continuing to grow and what should they be spending on a house?
How, when and where should they start investing?
How to plan for having a family and for their kid's education
4. What's the strangest question a client has ever asked you?
If I was single?! Haha
5. If you could get three things into consumers' heads about what advisers do or don't do what would they be?
a) We can help you even if you aren't rich! You don't have to have a minimum amount of funds to be able to get advice. At Pursue Wealth we want to work with young motivated individuals who are willing to do what it takes to achieve!
b) Financial advice isn't just about investing. When you first come into have your initial meeting its about understanding you and your goals, we don't even discuss investing. We see investing as a vehicle to ideally fast track you to achieve your dreams- sounds fluffy but its true! You cannot run a race without knowing where the finish line is so why invest when you don't know what you are aiming for.
c) Financial advice can be affordable. We are a holistic financial advice firm that looks at your whole financial situation. With this being the case you can often pay part of your financial advice fee through super which makes financial advice affordable to more people.
6. How do you describe your job at BBQs?
I help people figure out their goals and work out how to tick them off with an awesome financial plan which gives them control of their every day finances from things as simple as banking structures to the exciting things like investing.
7. If you had one bit of advice for me what would it be?
The best piece of advice I have is to have a spending schedule (budget) and set your banking structure up around your budget so you are unable to over spend. Having savings goals can be hard but it will be worth it in the end. As a Gen Y you need to remember patience and delayed gratification will help you save and get to your goals!
8. Should I invest in Bitcoin, shares or property?
When investing it's about diversification which means don't put all your eggs in one basket. Spread your money out and investment your funds a bit in each asset class including shares, cash, property, infrastructure, bonds etc and if you have a higher risk appetite you could consider an option like Bitcoin.
Article by:
Josh Wingrove
Was this helpful content?
Let others know - share and vote-up