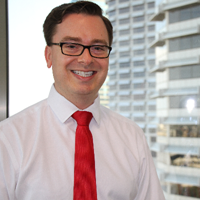 Our Adviser Profile this week is John O'Brien, a Partner at VISIS Private Wealth operating out of Brisbane. John is a Platinum adviser with 16 client reviews, with an average client rating of 4.9 out of 5 stars.
Best thing about being a financial adviser?
Being able to make a difference to the financial future of people on a daily basis.
One thing you would like to see improved or changed in the industry?
More collaboration between firms to assist in continual improvement of the industry.
The areas on their finances or economy that worry your clients the most?
I would have previously said retirement funding, but recently education funding for children has been an area of focus.
What's the strangest question a client has ever asked you?
"What loan to value ratio do you think the bank would give me on a crocodile farm"? 
If you could get three things into consumers' heads about what advisers do or don't do what would they be?
a) You don't need millions before seeking advice.
b) The earlier you start planning the higher the chances of achieving your goals.
c) Keep asking questions until you are comfortable with your understanding.
How do you describe your job at BBQs?
I provide holistic financial advice to time poor clients, I act as their personal CFO.
Is technology changing your role as an adviser?
I think there is a place for robo-advice however the personal aspect of advice that can provide peace of mind in times of stress would be hard put to be replaced by a robot.
Was this helpful content?
Let others know - share and vote-up