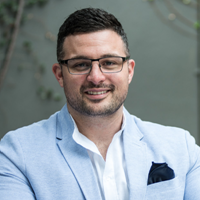 Our Adviser Profile this week is John Cachia, founder and CEO of afagroup Wealth.  A Platinum adviser with 67 client reviews, with an average client rating of 4.98 out of 5 stars, John works out of Niddrie in Melbourne, Victoria.
1. Best thing about being a financial adviser?
I am passionate about helping my clients manage and make the most of their money. I genuinely want my clients to feel in control of their money, so they can go and enjoy life. To know that their finances are in order, no stone has been left unturned, there are no more loose ends to tie up. That all the strategies are leading my clients towards achieving their goals. Witnessing my clients achieve their goals is satisfying. I take great pride in knowing that my advice will help my clients, it is a huge responsibility and an enormous privilege for me to be selected as my clients' financial advisor.
2. One thing you would like to see improved or changed in the industry?
The Australian government have a responsibility to ensure all Australians have access to a financial adviser. The increase in financial adviser fees, driven by regulatory costs, are making it unaffordable for some Australians to engage a financial adviser. It is unfortunate and unacceptable that some people in our community simply cannot afford a financial adviser. Working collaboratively, the government and the financial services industry could devise a solution.
3. The areas on their finances or economy that worry your clients the most?
Many of my clients are concerned about the increase in the cost of living. There is no reprieve from the price increases of goods and services. The overall state of the Australian economy is another worry, particularly the potential of rising interest rates and ability to pay down their debts.
4. If you could get three things into consumers' heads about what advisers do or don't do what would they be?
a) Financial planning is a journey. It's about implementing a well thought out plan and taking the right steps towards achieving a goal. Financial success won't happen overnight, you need to ride the market highs and lows to achieve success.
b) Financial advisers explain the financial jargon to their clients, and what impact it may have. Taking on the role as a financial educator is crucial to help clients feel informed, and can help reduce the 'fear' surrounding financial information.
c) Financial advisers don't force you into financial decisions. Ultimately, that decision is for clients. Financial advisers should present an unbiased tailored financial strategy, based on each clients' financial goals and objectives including the pros / cons, potential challenges and so on.
5. How do you describe your job at AFA Group Wealth?
Being the CEO & Senior Financial Adviser of AFA Group Wealth is my ultimate dream job. I am so fortunate to be in the position where I can truly make a difference in someone's life by sharing with them my expert financial knowledge. I listen to my clients and ascertain what their personal and financial goals are. Then I help my clients make sense of the barrage of financial information, accounts, charts, graphs and statistics, and develop a tailored financial plan which will help them achieve their goals. I stay abreast of economic conditions and regulatory changes, to give my clients the best possible financial advice.
6. What are your top 3 financial tips?
Save before you spend
Plan for tomorrow today
Protect what you have built
Was this helpful content?
Let others know - share and vote-up