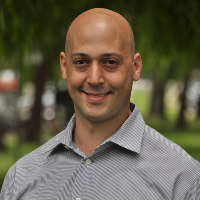 Joel Edelman is a Platinum Adviser with 55 reviews and an average customer rating of 94%. Joel works at Principal Edge Financial Services in Double Bay, Sydney.
1. Best thing about being a financial adviser?
All clients are different, so managing goals and expectations in a respectful and considerate manner is imperative.
I enjoy helping clients articulate their goals and objectives and then tailoring the strategy that provides them with the guidance to achieve them.
To watch clients achieve their goals and for us to know we have helped them change their life and the lives of their families is extremely satisfying and rewarding.
2. One thing you would like to see improved or changed in the industry?
I would rather see Advisors levels of education continue being extended with product manufacturers and banks being separated from the licensees and distribution networks.
I believe that advisors levels of education need to be improved and that the product manufacturers and banks need to be separated from the licensees and distribution networks to take away any conflicts that exist.
3. The areas on their finances or economy that worry your clients the most?
Clients are always concerned with the constant tinkering with their superannuation, and now the concerns have extended to the discussed changes to capital gains tax and negative gearing.
Many clients want guidance on how to maximise their nest egg as they are concerned that they work to be a self-funded retiree and then land up barely better off than those who never prepared for retirement. The self-funded retiree feels targeted and under attack and want guidance to reduce risks, protect their nest eggs for themselves, spouses and children.
4. What's the strangest question a client has ever asked you?
Fortunately I do not believe I have had any 'strange' questions, however I have had clients try and achieve outcomes which are totally disconnected from their earning and savings patterns and unrelated to their current lifestyle.
5. If you could get three things into consumers' heads about what advisers do or don't do what would they be?
a)        Advisors do not have a crystal ball to identify how to beat the markets and where the markets are going and neither does any other investment advisor.
b)       Our role is to build strategies to guide our client's decisions to make smart decisions with their money and lifestyle. By doing this we maximise the probability that our clients will achieve the outcomes they want to.
c)     The key to a successful long term client relationship, is understanding that portfolios and clients structures need to be robust enough to weather different storms.
6. How do you describe your job at BBQs?
We help clients make smart decisions with their money and build strategies to help achieve the life they want.
7. What approach do you take to your client's investment strategy?
I believe a cohesive common sense approach to investing lies at the heart of a sound financial plan. The core to our approach is in building realistic long term expectations of performance and ignoring short term market noise. We are not 'market timers' and manage risk through adequate diversification of asset type, class, manager and style.
Was this helpful content?
Let others know - share and vote-up