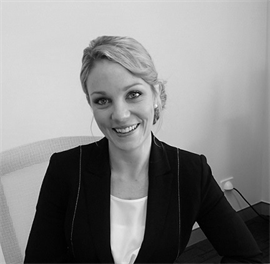 Effi Bowtell, a Platinum Adviser with 12 client reviews and an average customer rating of 100%. Effi is from Entire Financial Solutions on the Sunshine Coast in Qld.
1.    Best thing about being a financial adviser?
Empowering client's freedom. Being an adviser is a great responsibility, someone seeking your advice on their lifesavings if humbling and shouldn't be taken lightly. There is nothing more rewarding than seeing your work contribute to an individual's happiness, providing proactive solutions to life's challenges and actively helping our client's get ahead.
Whilst money is the final outcome of our role, the more rewarding part is often the goal behind the money. We find a sense of pure achievement in seeing our clients enjoy retirement, buying their dream home, growing their family, knowing their family is protected, preserving assets and making money. Seeing our client's achieving their goals is a sensational feeling.
2. One thing you would like to see improved or changed in the industry?
The representation of the Value of Advice - I think that there is a lot of focus around products and fees. Whilst these are important often the real value of a financial planner and their advice is a result of the strategic and personalised advice we give and how it helps everyday Australian's not only to get ahead but achieve their goals.
3. The areas on their finances or economy that worry your clients the most?
The list of what worries people is endless. Some people worrying more than others and often about different things based on where they are in life. At Entire we promote education and personalised advice based on where you are now, and are proactive with updating our clients and letting them know what is next. I find this reduces client's worry significantly as they feel informed and confident that we are reviewing their situation on an ongoing basis - not just at their review meeting.  I also act as a sounding board for our clients to help relieve their stress – I find this helps direct focus to what is important or needs to be addressed.
Knowledge is power, I believe that thorough consideration should be given to an individual's overall situation and that your finances and goals are given the attention they deserve. Financial advice leaves people feeling informed and confident about their future.
Here is a few common concerns or questions that we provide personalised pathways to ensure that the following are no longer a worry:
Ensuring that their money is going to last the distance. With an aging population, increasing costs of living, increasing requirement for medication to maintain health and constant changes to Age Pension – I find that a primary concern for a lot of Australian's is if they will have sufficient assets to last them for their life expectancy.
Not understanding their options or the technical jargon, feeling confused about information they have been provided by their superannuation provider, government and federal budget announcements etc.
Understanding how to make ends meet if something were to happen to them. I find most people with any debt or family have this in the back of their minds causing concern.
Understanding how to get from where they are now, to a position they are comfortable to retire. Whilst all clients have goals, most don't understand how to get to where they want to be, or how to protect their capital for market corrections.  
4. What's the strangest question a client has ever asked you?
Honestly I couldn't say there are 'strange' questions - just new and challenging opportunities to assist people in building their knowledge. No question is a silly question - as a Financial Planner I feel it's important to build deep relationships with our clients so they feel comfortable to ask anything that comes to mind.
5. If you could get three things into consumers' heads about what advisers do or don't do what would they be?
a)      The right adviser can put you in charge and provide you with enough information to make informed decisions
b)       Under Law, an adviser cannot give you advice unless it places you in a better position
c)      An adviser can assist you with your insurance claim and or application ensuring that you fully understand your definitions and that you are not wasting you money on something that will never pay. If you do receive an insurance payout, there are also a number of ways an adviser can help you to minimise tax and use the funds to overall enhance your situation.
6. How do you describe your job at BBQs?
I ensure that people have a personalised plan to protect their family and maximise their wealth to ensure that they achieve their goals. I help individuals to understand where they are now, how their money is invested, what could affect them and their future, how to save tax, manage their superannuation and maximise their investments. I put people in charge of their tomorrow!
7.  Are your client's in a better position after advice costs? How much does advice cost? Will I be ahead after getting financial advice?
A qualified Financial Planner is legally not able to provide you advice unless it places you in a better position. At Entire we are here for the long term and I have a personal philosophy for the business of 'Clients First' - I will not provide advice to a client if there is no value. The value an adviser can add is extensive on a variety of levels to help overall get closer to the goals that you set out to achieve.
I aim to give you enough information about your advice options, their benefits and the cost to execute this to allow you to make an informed decision on what you find appropriate and affordable. This allows you to know that you will be in a better position and the benefits outweigh the costs of advice. We discuss potential risks, threats or important considerations and why these may affect you. You can then often prioritise what you feel is appropriate and choose to proceed with the advice that you feel is affordable and provides the most value to you.  
Like any service industry, the more complex your situation the more expensive the cost. Any advice relating to superannuation can also be paid from your super fund. I feel that it is important to offer a complimentary meeting so that you are able to meet your potential adviser to ensure that you feel comfortable partnering with this person and for the adviser to determine if they are able to assist you.
8. What about people who can't afford a Financial Planner but I really need one?
We provide a number of payment solutions that are affordable for you to help reduce the pinch of our services. If you are unable to afford to pay for advice via direct invoice (our usual method of payment), we can offer a staggered payment plan, payment via superannuation (for all super related advice), or budgeting advice to assist in freeing up cashflow to afford the cost. For those who are really struggling, experiencing financial hardship, suffering from a terminal illness or going through cancer treatment, you will also find that certain institutions or financial planning practices offer pro-bono solutions. At Entire, we have partnered with the Cancer Council Australia and accept pro-bono work on an ad-hoc basis.
Was this helpful content?
Let others know - share and vote-up