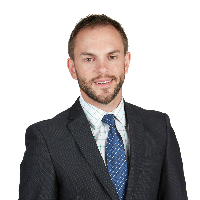 Our Adviser Profile this week is David Maddock, a Platinum adviser with 11 client reviews and an average customer rating of 99%. David is a Senior Financial Planner at Apt Wealth Partners, working out of their Geelong and Melbourne offices in Victoria.
Best thing about being a financial adviser?
I love seeing the peace of mind clients have when working with them to achieve their financial goals. Once they feel confident in their financial future they are free to enjoy life.
One thing you would like to see improved or changed in the industry?
People being more engaged in their superannuation. Plenty of people take little interest in their superannuation which is normally one of their biggest assets. The Government doesn't help by constantly changing the rules.
The areas on their finances or economy that worry your clients the most?
Most clients are worried about not having enough funds to retire comfortably.
What's the strangest question a client has ever asked you?
Can I purchase a caravan through a self-managed superannuation fund?
If you could get three things into consumers' heads about what advisers do or don't do what would they be?
a) We help you make smart decisions with your money and sometimes this means don't panic and stick to the plan;
b) Providing advice can't be done in 5 minutes, we need to get to know the client's position in great detail, complete research and compare different strategies before coming to a conclusion as to the best strategy. A lot of work goes into it behind the scenes;
c) Sometimes the best investment you can make is a life insurance policy. I have seen the first hand benefits of clients having insurance as well as the stress of not being insured.
How do you describe your job at BBQs?
I work with clients to achieve lifestyle and financial success by helping them achieve their life goals and securing their financial future.
Article by:
David Maddock
Was this helpful content?
Let others know - share and vote-up