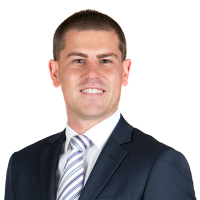 Our Adviser Profile this week is Andrew Dunbar, a Platinum adviser with 13 reviews and an average customer rating of 100%. Andrew is a Director and Senior Financial Planner with Apt Wealth Partners, servicing clients from their Melbourne CBD office.
Best thing about being a financial adviser?
Without doubt it's the relationships I build with my clients. I love following their lives; for example the trips and experiences they're having with family and friends. It's fantastic knowing that the advice and peace of mind I am providing is helping them to lead the life they want to.
One thing you would like to see improved or changed in the industry?
I would like to see a clear framework to assist consumers in finding a non-conflicted, non-aligned advice professional. That is a very difficult task today.
The areas on their finances or economy that worry your clients the most?
The most common questions we answer are:
Will I have enough to retire?
What happens if there is a market crash?
How can I buy my dream home?
How can I monitor and control my expenses?
I want to live for today, because you don't know what will happen tomorrow.
What's the strangest question a client has ever asked you?
I receive a strange question every day: That's part of the role! I am here to take people's stress away and allow them to enjoy their lives. If that means they ask me about solar panels, their car engine, their gas bill, their child's marriage, or their choice of suitcase, then that's what I am here for! If I don't have the solution, I will get an expert from my network to assist in finding the right outcome.
If you could get three things into consumers' heads about what advisers do or don't do what would they be?
a) It is not just all about saving for tomorrow. As Robin Sharma said "At your end, you'll regret the things you didn't do, instead of the things you did". We stress the importance of balance: Enjoy your life today, with an eye on tomorrow.
b) It is more than investments alone. Our job is to take the stress out of managing your finances. We act as the family's "CFO" and we project manage each situation to help you make smart decisions that help you achieve the goals and objectives you have set.
c) You don't need a huge amount of wealth to start with an adviser, just a desire to grow your finances to ensure you can lead the life you want both today and into the future.
How do you describe your job at BBQs?
We take care of people's money worries. We act as the family's "CFO" and help them make educated decisions that will allow them to have the financial security to do the things in life they really want to achieve.
What do you feel is the most important aspect that a consumer should look for in an adviser?
Building a long-term relationship based on trust is absolutely crucial. To benefit from financial advice you need to allow your adviser to access not only your current financial situation but also your plans for the future. Understanding the specific goals and objectives of a client is a must and often these are quite personal in nature. That level of trust between an adviser and the client is crucial to making the right decisions that are specifically tailored to that person's desired outcomes.
Is there a critical time in a consumer's life where they should look at working with an adviser?
Financial advice is something that can help you at many different stages. Regardless of whether you're a young professional looking at your first property purchase, a couple in their 40's with an inheritance, or a pre-retiree looking for the right advice on retirement, there's always a way that a financial planner can assist you on the journey to reach your goals.
Article by:
Andrew Dunbar
Was this helpful content?
Let others know - share and vote-up