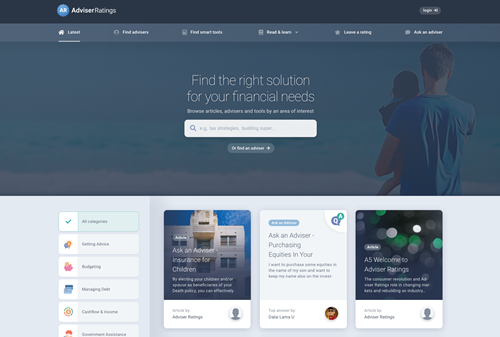 Adviser Ratings released a new version of the website last weekend. So what does this mean for advisers? 
New Changes – Phase 1 
1. In line with most review sites and to improve SEO search on Google, all customer ratings will now be converted to a 5 star rating. So, if a client rated you 95%, this will now be reflected as a star rating of 4.75.
2. The Adviser Rating % will no longer show and will just show the 5 badges (Platinum, Gold, Silver, Bronze, Minimum) – in due course, we will be reviewing the badges and the associated criteria with a "Ratings Committee" in line with our move to rate licensees.
3. All leads will be quarantined and reviewed before sending to you to avoid SPAM "leads".
4. New expertise categories have been created. Upon logging in to your profile, please update these categories so you accurately appear in searches by consumers.
5. We have removed the "Vouched For" section on the site due to lack of use. 
6. There is a far heavier emphasis on relatable content for consumers and have removed adviser specific content to a new section of the site.
7. All contributed content by advisers (articles and "Ask an Adviser") will now be displayed on your public profile. This will help consumers in determining their selection process when finding an adviser (not just from organic SEO search) but in finding advisers who are thought leaders for the industry by giving insight into how they are addressing other clients or industry needs.
8. Consumers will now see a different view of your profile.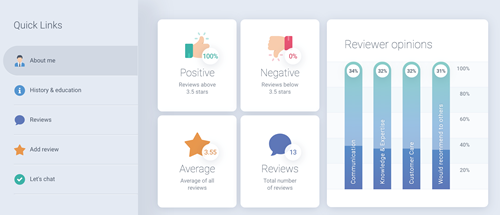 Sneak peek of new Adviser Ratings profile
Upcoming Changes – Phase 2
Whilst the focus has been what the consumer sees, we are currently working on a new robo register and professional side to the platform, including a redesign to your backend profile.
1. A robo register (smart tools) of 30+ organisations will now be included on the site to be rated and reviewed by consumers. We believe this will also assist advisers in determining which solutions they can offer their own clients or look to this register for robo-partnership opportunities. This register will continue to grow as new solutions come to market.
2. Based on feedback from the adviser community and from the data we have collected on what features are being used, a new adviser backend profile is in the works. Whilst this process is well underway, please make any comments in the section below on what you think we can do better or any new features you think will improve your experience.
3. A professional register for advisers will be implemented on all suppliers to the market – this will include B2B software solutions, investment platforms, life insurers, licensees and fund managers. It will also allow advisers to rate some of these suppliers on particular metrics.
4. An automated solution for you to promote your testimonials through your social media channels.
New Consumer Campaign
We are currently working on a widespread sustained consumer media campaign – stay tuned as we look to profile advisers in a more positive way. There will be significantly increased traffic to the site both from existing clients validating their adviser choice and new consumers looking for an adviser.
Claim Your Profile
That said, in the interim, we would encourage those you have yet to sign up with the site to jump on board and start getting your clients to rate you. Remember, just registering and getting reviews is FREE. Just click on the "Adviser Signup" tab at the top right on the login page below.
Was this helpful content?
Let others know - share and vote-up