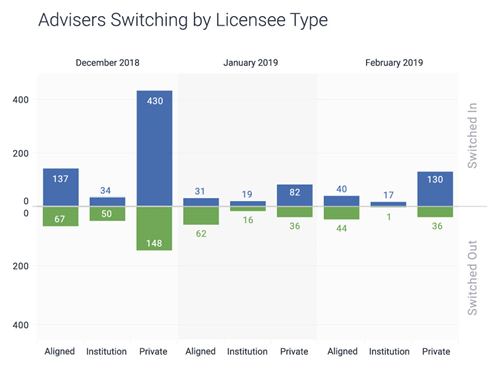 Adviser Ratings musical chairs report offers insights into advisers changing dealer groups. The industry experienced a huge rush of new advisers registering before the end of 2018 with the introduction of the new FASEA requirements. The number of new advisers in January and February, however, was significantly less. Our latest report also illustrates the continuing trend of advisers moving away from aligned licensees and many other insights, including fastest growing dealer groups, and changes to the experience, qualifications and quality of advisers across the industry.
The number of new advisers in January and February was significantly less than at the same time last year. In contrast, a total of 907 advisers left the industry compared to 792 advisers in the same period last year. Among the total of 907 advisers, 52% were from privately-owned licensees, whereas 36% from institutionally-aligned and 12% from institutionally-owned licensees. 
Our latest Dec-Feb Musical Chair report is available for sale via mark@adviserratings.com.au
Article by:
Adviser Ratings
Was this helpful content?
Let others know - share and vote-up