OVERVIEW
The latest Musical Chairs Q3 2020 report has been released by Adviser Ratings. Net adviser outflows took a breather in the quarter, despite significant ongoing corporate actions headlined by the announced IOOF takeover of MLC. By end Q3 2020, the adviser population had reduced to 21,146, according to Figure 1, representing a net decline of 388 advisers (1.8%) from Q2 2020. This was comfortably the lowest quarterly decline since the industry started net contraction in 2018.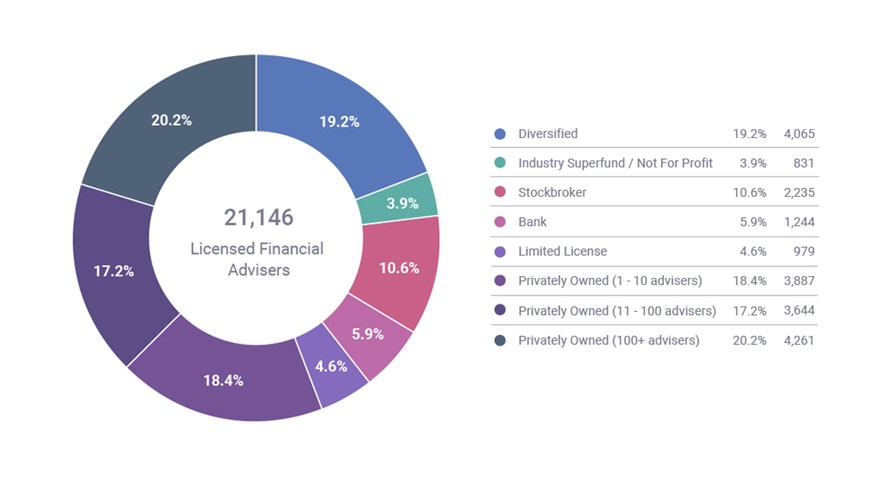 Figure 1: Industry overview Q3 2020
In terms of related market news, the industry was rocked by two major back-to-back announcements end August, with IOOF's announced takeover of MLC and AMP's chair putting all its assets on the table for a potential sale. Only last week, AMP disclosed that it had received a takeover offer from a US-based investment manager Ares Management Corporation. These changes bring to a crescendo the major tectonic shifts in the advice landscape that began with the earlier exits by ANZ, Westpac and CBA.
However, amidst this institutional wheeling and dealing at IOOF/MLC and AMP, affected advisers are confronted with decisions to stay under the new corporate entity or to take their chances with another licensee. This, in turn, places further scrutiny on the broader licensee sector, in terms of the services that they offer, their commercial engagement models, and their financial sustainability.
ADVISER MOVEMENTS
Total adviser movement was well down from prior quarters. From Figure 5, 660 (3.1% for the quarter, 12% annualised) advisers left the industry in Q3 2020, while 14 new advisers joined the industry and a further 258 transitioned back after being previously ceased. Is it possible that advisers, notwithstanding their fair share of bruises from regulatory and market headwinds, are taking a more positive long-term view on their future in the industry? For example, with ASIC extending exam completion by 12 months to December 2021, many advisers may have taken advantage by avoiding the exam altogether to eke out another year in the industry before leaving. However, another 1,500 advisers completed the exam in August and according to FASEA in late September, a further 1,900 registered for October and November exam sittings. If all those advisers were to pass the exam, this would push the completion rate to approx. 55% of registered advisers nationally.  




SWITCHING ADVISERS

In Q3 2020, 778 advisers (14.4% annualised) switched licensees, which was slightly above the trend of the last 18 months (12% annualised).
The natural tendency for advisers to be cautious during these uncertain times and stay put is being offset by continued corporate actions that are forcing them to move. AMP and ANZ, in particular, continue to drive the lion-share of switching as they maintain their rationalisation programs.
With the IOOF acquisition of MLC still to be formally approved and the courting ritual between IOOF and MLC advisers in full swing, the impact on switching volumes from this transaction are yet to be felt. However, it should drive a massive jump in future switching statistics – since IOOF is not purchasing the MLC licences, all advisers joining MLC will be registered as a switch, as will any MLC adviser that chooses not to join IOOF.


Figure 7:Switched Adviser Movements Q3 2020
LICENSEE MOVEMENTS
In Q3 2020, licensee volumes grew for the first time since 12 months ago as 45 new licences were registered and 32 shutdown. This was against an inexorable trend to fewer licences as ceased licensees outnumbered new licensees by 2.15:1 for five of the last seven quarters.


Figure 9: Newly registered licensees vs discounted licensees
The full Q3 2020 Adviser Musical Chairs report can be accessed here.
Article by:
Adviser Ratings
Was this helpful content?
Let others know - share and vote-up