The new year has seen the trend of advisers preferring to move to larger privately owned licensees continue. 2019 saw a number of companies signalling their intention to leave the advice space and the adviser movement data continues to reflect these developments. Here we show you a sneak peak of our upcoming Musical Chairs report for Q1 2020, which delves into more detail on specific adviser movement trends, the reasons behind them and what we can expect in the future.
Following a busy 2019 of companies announcing exits from the advice industry or major streamlining (think AMP, BT, CBA, and ANZ), the only notable corporate development in Q1 2020 was the transfer of 45 advisers from Yellow Brick Road (YBR) to licensee Interprac Financial Planning. This followed the sale announced on 27th December 2019 of the YBR wealth division to Sequoia Financial Group. The initial adviser transfer was the first leg of a two-step process, with the remaining 13 advisers due to move end April. This acquisition by Sequoia boosted Interprac to the top of the league table of fastest growing licensees in Q1 2020, as detailed in a later section of this report.
One story relevant to the adviser merry-go-around were the moves by both MLC and Centrepoint to provide licensee fee concessions to their advisers. Both CEOs Geoff Lloyd and Angus Benbow respectively have extended a mix of amnesties, deferred increases, and long-term caps on otherwise rapidly rising licensee fees. These decisions will provide welcome relief to practice owners struggling with this incredibly difficult business climate, and presumably assure higher levels of adviser / practice retention within these organisations at a time when everyone seems to be on the move.
It reflects strong leadership as well as smart marketing, sending a signal of confidence to the industry that these companies have strong balance sheets and have the financial muscle to offer these concessions and still successfully navigate the COVID-19 storm. We can expect to see other well-capitalised licensees or parent companies follow in their footsteps, and in doing so potentially alter the shape of adviser movements and practice sales well into 2021.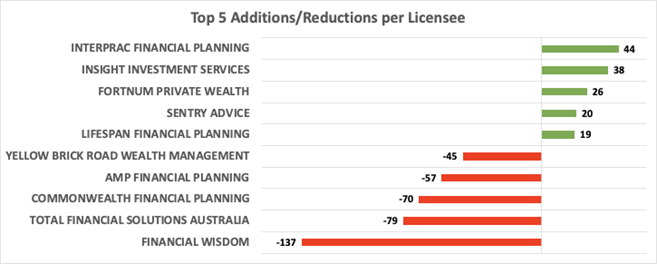 The licensee constituents in our chart are unsurprising and highly consistent with the trends previously discussed in terms of advisers favouring the larger privately owned licensees. Interprac benefited directly from the sale of Yellow Brick Road's wealth division to parent Sequoia Financial Group, while many of the other licensees in growth mode have been consistently adding advisers through carefully orchestrated organic and inorganic approaches. These licensees are all at different stages of growing their capacity and re-engineering and stabilising their business models, in terms of their adviser value proposition and how they are structured to deliver it consistently and compliantly. It's possible that we will see a different set of names emerge over coming quarters as some of the mid-sized (30-100) privately owned licensees opportunistically step forward, potentially on the back of new funding from private equity. 
The reverse is true for the firms in adviser net outflow. They all belong to the major institutions or have been intentionally run-down as part of a sale/ transfer (TFSA, YBR) or through ASIC enforcement (SMSF Advisers).
Adviser Ratings new quarterly Musical Chairs report will be available to download shortly.
Article by:
Adviser Ratings
Was this helpful content?
Let others know - share and vote-up