It's no secret the financial advice industry has changed shape in the past five years, with the most noticeable trend being the departure of thousands of advisers.
But as the industry itself contracts, we've also seen new patterns emerge around the size of advice practices. Essentially, they are getting smaller, with the majority of advisers now choosing to work alone or in a boutique firm.
Shortly before Kenneth Hayne delivered his final report for the Royal Commission into Misconduct in the Banking, Superannuation and Financial Services Industry, almost one in five advisers could be found at a large practice (100+). By the end of Q3 this year, that proportion had dropped to 13 per cent. It's probably not surprising, given how banks have fallen out of favour and largely exited the advice landscape. Many advisers departed with the banks.
Figure 1 – Distribution of advisers by business size: January 2019 to October 2021 (Source: ARdata)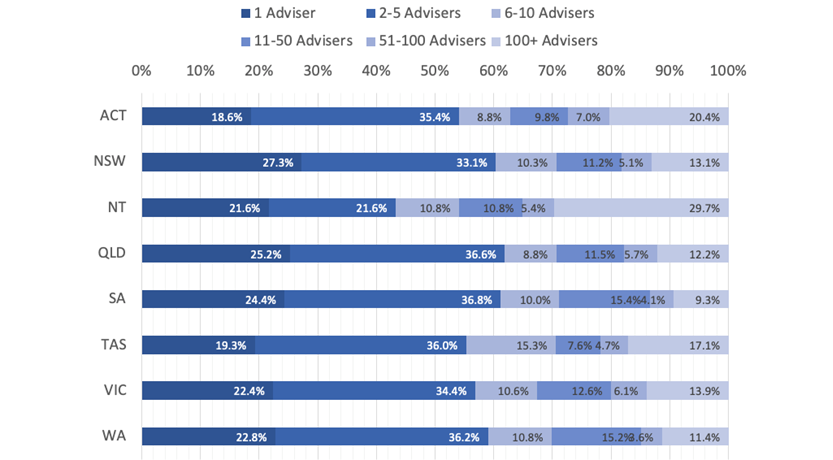 In addition to contraction at the large end of town, we've also seen declines in mid-sized firms, with the 11-100 adviser range's market share contracting by about five percentage points in under three years.
The rise of the solo advisory
At the other end of the spectrum, there have been gains in solo and small practices. In fact, the proportion of advisers going solo has increased almost four percentage points in less than three years, as has the proportion going to small firms (6-10 advisers).  
Similarly, the proportion of advisers in practices with two to five advisers has increased three percentage points over the same period. However, it's worth noting there was a large dip in this category between July and October this year, with the departure of more than 700 advisers.
Figure 2 – Percentage change in segment cover: January 2019 to October 2021 (Source: ARdata)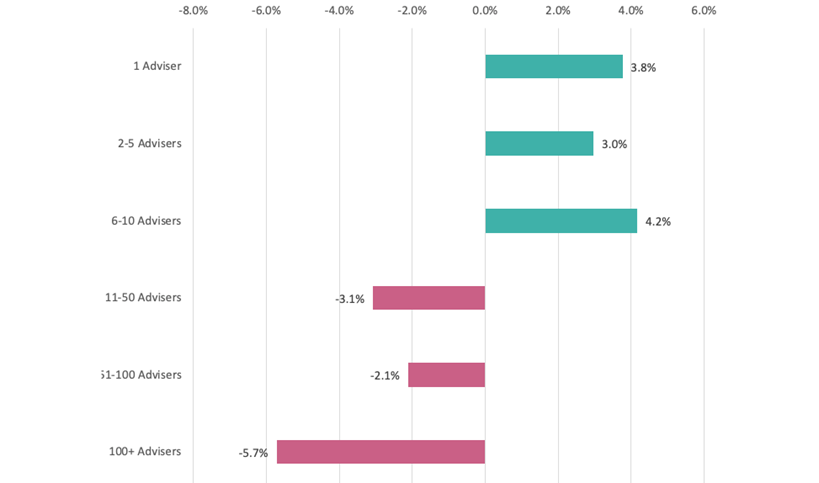 Geographical differences
This inclination towards smaller firms doesn't carry across all states and territories. In fact, in the Northern Territory, almost 30 per cent of advisers work for a large practice (100+), compared with just 9 per cent in South Australia and 11 per cent in Western Australia.
Figure 3 – Distribution of advisers by business size and state: October 2021 (Source: ARdata)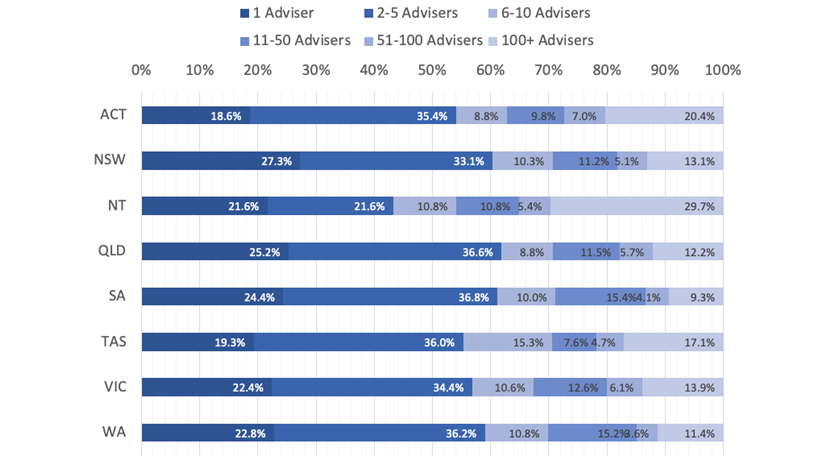 Meanwhile, New South Wales is leading the charge for solo practices, with more than 27 per cent of advisers working alone in the state. Only the Australian Capital Territory and Tasmania have fewer than one in five advisers in solo practice.
We predict the trend towards smaller practices will continue for the most part, especially in the post-COVID period, when people are doing more with less (and fewer colleagues).  
Article by:
Adviser Ratings
Was this helpful content?
Let others know - share and vote-up