Only a few years ago, accountants saw a burgeoning opportunity in financial advice, with hundreds entering the market over a period of a few months in 2018.
However, we've now seen a sharp reversal of that trend. In December 2018, accountants made up almost nine per cent of the adviser market, accounting for 2490 of the 28,000-strong workforce.
Fast forward two-and-a-half years and the picture looks different. Last month, there were 1390 accountants, which makes up 7.3 per cent of the universe of 19,082. Put another way, financial advice has lost an average of 28 accountants per month since 2019.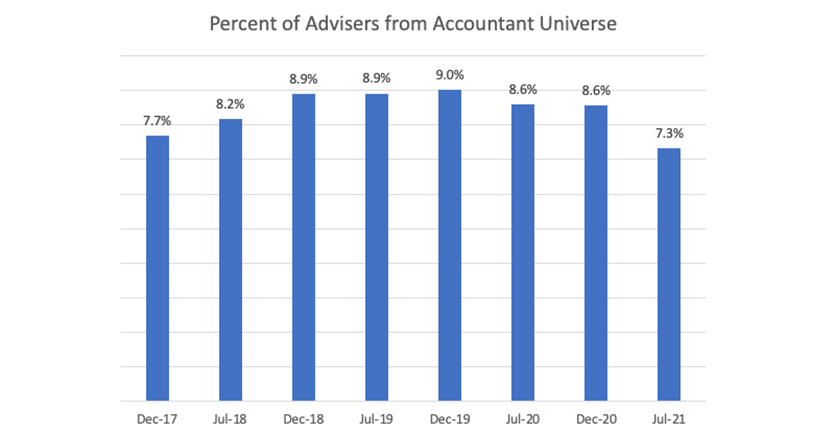 Source: AR Data
The tax professionals are largely licensed under limited licensees or the SMSF Adviser Network. As the number of limited licensees falls, Adviser Ratings analysis shows remaining limited licensees are getting smaller every month. There are now just 1.6 advisers per limited licensee.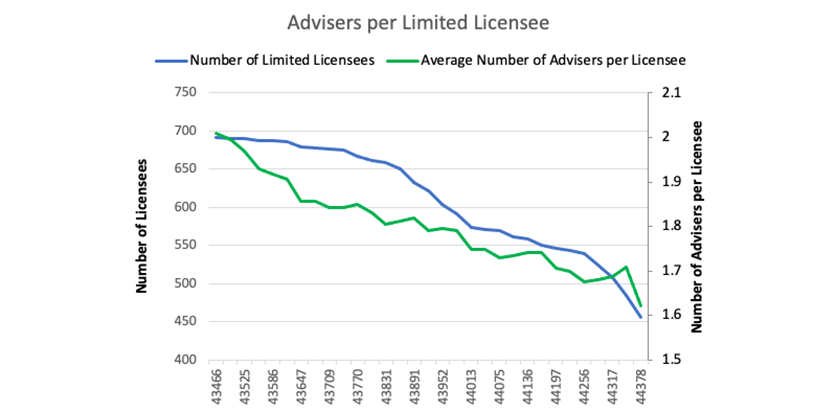 Source: AR Data
The key drivers
Accountants in the advice space are exposed to the same pressures as advisers, with revenue, professional standards, costs and COVID all stress testing businesses. However, if advice is a smaller proportion of their revenue, it's sometimes harder to justify the ongoing costs, including the cost of education, we're told.
Earlier this year, a chorus of accounting and planning bodies predicted those providing advice would be driven out of the industry due to ASIC's levy hike.
For example, accountants with a limited licence were up for almost $4000 in fees: $1500 for the AFS and $2426 per authorised representative, compared to $907 per authorised representative two years earlier.
Five industry groups - Chartered Accountants Australia and New Zealand, CPA Australia, Financial Planning Association of Australia, the Institute of Public Accountants and the SMSF Association - said the regulator's funding model had not changed to account for the changed landscape.
"Declining adviser numbers mean that remaining participants must shoulder a heavier proportion of the total cost," the group said. "This is impacting the viability of remaining businesses. Ultimately, this has flow on-effects for competition and the accessibility and affordability of financial advice," they added.
More recently, there have been fears the new dispute resolution levy on advisers and advising accountants could further drive down industry numbers. The aforementioned industry bodies united with three other groups this week – the Association of Financial Advisers (AFA), Stockbrokers and Financial Advisers Association (SAFAA) and the Boutique Financial Planning Principals Association Inc – to raise concerns about the cost of the proposed scheme.
Collectively, they are worried the proposed Compensation Scheme of Last Resort will be used earlier than the last resort stage.
Under the proposal, firms with four or more advisers would be charged $291 per adviser. However, if the cost exceeds $10 million, firms with three advisers would pay a $458 levy per adviser.
While these levies would take time to be implemented, it's feared the prospect would drive more advisers and accountants away from the industry.
Article by:
Adviser Ratings
Was this helpful content?
Let others know - share and vote-up