Can life get any more difficult for life insurers? As if LIF, the Royal Commission, and more recently APRA forcing an industry recapitalisation were not enough, a couple of weeks ago ASIC recently published a review looking at member experience with group life, with some damning findings for super funds that will have flow-on impacts for their group life partners.
Sales are down circa 10% for 2020 according to recent Plan For Life data and life insurers are playing a game of chicken with each other on repricing in order to get back towards profitability, although these premium step-ups have commenced and are understandably being met with great concern by advisers and their clients.
The life sector was also front and centre during COVID-19 as consumers, through a variety of experiences with death, illness, or losing work due to the economic crisis, "suddenly" woke-up to the entire life insurance topic. It has highlighted the need for major education of the consumer base around the product suite and what is included / excluded. COVID-19 had everyone reaching for their policy documents, in the same way consumers pore over T&Cs in their house insurance policies after a bushfire or flood.
The early league table of life insurer NPS scores may not come as a major surprise then, as judged by advisers in our current 2020 Financial Advice Landscape benchmarking study. NEOS Life, Zurich and Clearview are the only firms in positive territory, with Clearview jumping into the top 3 for the first time, while TAL is the biggest improver jumping three places from last year. MLC Life has had a precipitous fall into negative territory, with advisers reacting harshly to management changes and impacts to functionality and support arising from a major technology transition project. The insurers that were acquired over the last 1-2 years did not score well, unsurprisingly for Asteron and CommInsure who are in run-off, although Onepath has been well supported by Zurich and remains open for new business.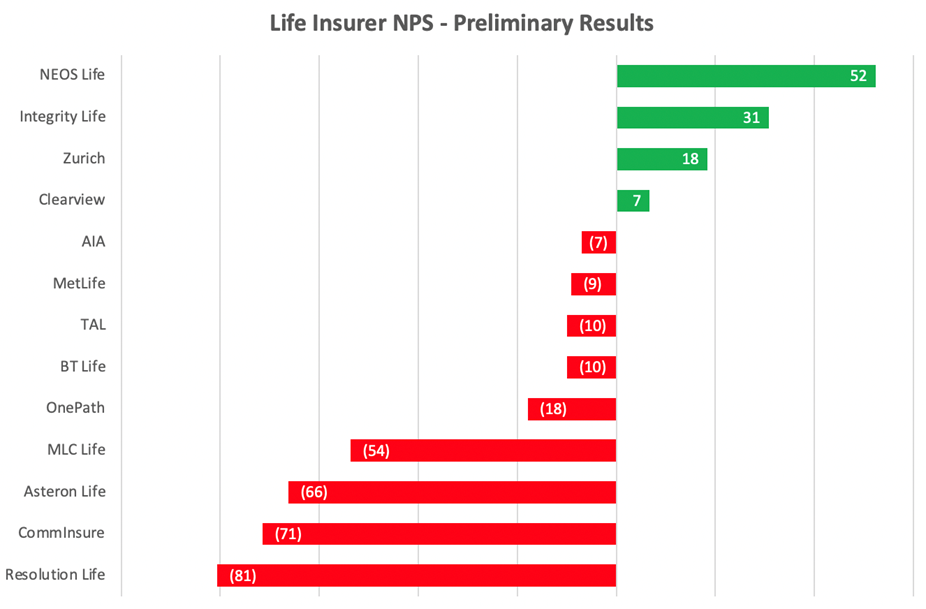 Source: Adviser Ratings Financial Advice Landscape study, Nov 2020 (n=840)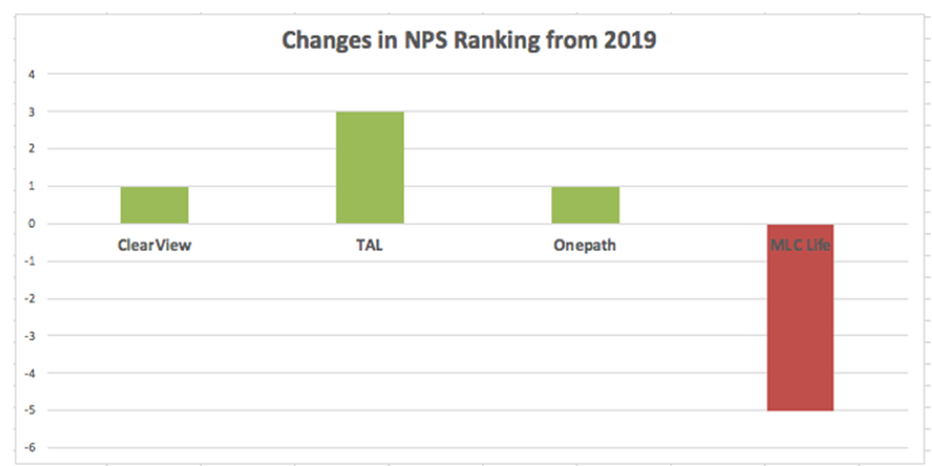 Source: Adviser Ratings Financial Advice Landscape study, Nov 2020 (n=840)
In reviewing adviser qualitative comments, some interesting perspectives are emerging:
Corporate actions
The consolidation in the industry with Asteron, CommInsure and OnePath gobbled up by their acquirers has not improved adviser mood by reducing choice for new business, particularly with the remaining players struggling with performance. This has played perfectly into the hands of NEOS Life and Integrity Life as they are unconstrained by legacy systems and back book claims, and they have naturally focused on delivering great customer experience through their investment in technology, underwriting flexibility and value-for-money, and adviser support.
Policy term shifts
Given the recent experience of COVID-19 and the increased engagement from policy holders, it was surprising to see virtually no comments about the equity or otherwise of changing policy terms. The absence of feedback suggests that the life industry responded appropriately in adjusting for COVID-19 inclusions / exclusions. Damned with faint praise?
Non-core "inducements"
Although always couched in terms of "yes, but fix up your core service", advisers nevertheless gave a big thumbs-up to the AIA Vitality program and the TAL Academy. It reflects adviser hunger for insurers to take a more holistic approach to helping them through their own personal and business transitions, as well as providing additional tools to build engagement with clients for a product that is largely set and forget.
Premium Increases
With premium increases of up to 40% reported by advisers from some insurers, advisers were understandably upset about these sudden jumps, particularly for existing customers. The practice by some insurers of offering first-year / second-year discounts were not generally well received, as this made product comparisons under best interests duty more complicated to perform, or at least explain to customers who may be seduced by the low entry point.
If you have some strong views on how Life Insurers are adjusting to support your business, please have your say at www.adviserratings.com.au/yoursay and be in the running to win from a $30,000 prize draw.
Article by:
Adviser Ratings
Was this helpful content?
Let others know - share and vote-up