We are delighted to give you a taste of our 2nd annual Financial Advice Landscape report following possibly the most tumultuous 12 months in the history of the Australian retail wealth management industry. Some early results for the Melbourne region are available here now at the link below. It also features an outline of our full 700 page report and the contents it will detail.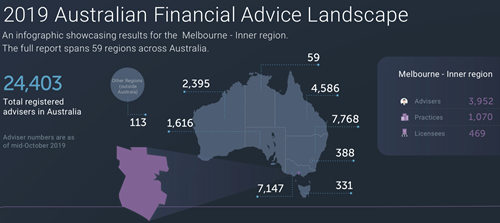 This is a report for every executive considering their response to the relentless force of change sweeping through the industry, driven by consumer, market and regulatory forces. The link below includes some early results for the MELBOURNE-INNER region (one of 59 regions profiled in the report) and an outline of our full 700 page report.
Advisers who have completed the first stage of our Marketplace Survey will be sent the results for their own region after the publication of the full report.
Any advisers yet to complete the survey can do so here. On submitting their response, they will also receive their own free regional snapshot after the publication of the full report.
We believe the 2019 Financial Advice Landscape Report is unique in terms of the range of public and proprietary data sets that we draw upon, and this year we feature several expert guest writers focussing on Investment, Life Insurance, Digital Advice and Technology, to compliment our market and consumer overviews.
We are offering early bird pricing for those purchasing before launch in mid-December - consider it a smart Christmas present for your management team to digest and set themselves before 2020 kicks off in force again!
Click HERE to see the full report outline, and stats for the Melbourne region.
Article by:
Adviser Ratings
Was this helpful content?
Let others know - share and vote-up