I am an authorised representative of Finchley & Kent, an Australian Financial Services Licensee, Licence No. 478766 and ASIC Authorisation Representative Number 255349. I have more than 25 years of experience in the financial services industry. I hold a Bachelor of Commerce degree, a Diploma of Financial Planning and have been a CERTIFIED FINANCIAL PLANNER® professional since March 2000. I am not aligned to any bank or major institution.
June 2023
John has consistently given reliable and accurate advice over many years. He is always easily contactable, should any concerns arise, and promptly organises things like drawdowns from my portfolio. His assistance when buying and selling my houses was invaluable. He seems to be always on top of trends in the stock market. Sometimes the strategies he advises are complex, and I have trouble understanding them initially. However, he is able to provide enough information so that the less financially savvy can understand. Most importantly, his advice has enabled me to have a better standard of living and lifestyle than I otherwise would have had.
April 2023
Without John's initial advice in 2003 and his continuing attention to our investments over the intervening years we would not be in the financially secure position we are today. This has enabled us to pass on large gratuities to our children, with the knowledge that we are helping them when they need it most. We are also extremely grateful that we are enjoying a very comfortable retirement.
April 2023
I have always found John to be knowledgeable, accessible, professional, hard working and reliable - and he gets results. John has been charting a course towards my and my wife's comfortable retirement for more than 15 years and there is nobody I would prefer at the helm.
April 2023
A great adviser. Very knowledgeable and explains process and risk in language easy to understand for a layperson.
April 2023
John has been an adviser with the Jewell family for approx. 25yrs. He is a most trusted and knowledgeable adviser particularly for my late husband during his time in business and now for myself. John's ongoing advice to me is invaluable.
Adviser status

Gold

Rating

Number of reviews

8

First year providing advice

1994

Years of experience

29

Highest qualification

Language spoken
JSK Wealth Solutions Pty Ltd
Unit 111, 1 Braybrooke Street
Bruce, ACT 2617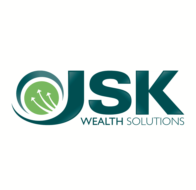 10:00am – 5:00pm

Monday – Tuesday, Thursday – Friday
In person

Phone

Video call